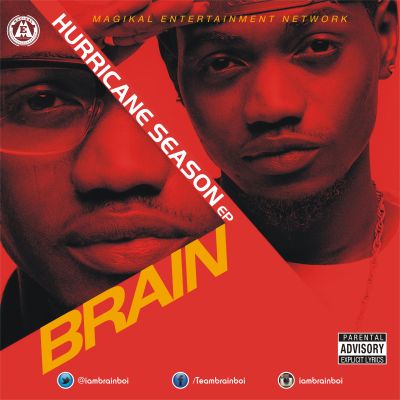 Frontline rap sensation BRAIN is finally here with his much talked about EP, the "Hurricane Season" which serve as a precursor to his eventual album release.
More like a valentine's gift to his ever-growing fan base, theMagikal Entertainment's wordsmith comes through with a six-tracker EP starting out with "Gat It" featuring sonorous singer"HighHeelz", a laidback feel-good braggadocious song where he boasts of his rap prowess letting whoever has ears to pay attention that he is no flash-in-the pan. He then followed up with "Salute"which has generated relative controversy as well as open love from established Rappers he showered encomiums on.
Hurricanes Season continues with "Recognize" featuring fast-rising femcee Ma'Cherie. The Hip Hop symphony put together bySeanz Beatz needs little or no explanation, the lyrics tells it all.
Sitting on the fourth track is "Gaara" which toes the dancehall lane showing the Rapstar's versatility. Needless to say, this EP is more like a Goodybag with one little something for all and sundry depending on your taste. If you are someone with an attraction to fast-paced music "Ileke" is for you and it will surely makes you put on your dancing shoes.
Hurricane Season ends with motivational "Take It Easy", a sure-fire melodious song with powerful messages about our daily survival in our respective journeys to financial freedom and living the good life. You can't help not taking one or two deeps words of encouragement from the banging fast-paced conscious music put together by Adeleke "Brain" Matanmi.
Hurricane Season is put together by the following Monsters on the console: Seanz Beatz, Eclipse, Skill P, H-Tee and Mr Vyne.
DOWNLOAD Brain – "Hurricane Season" E.P