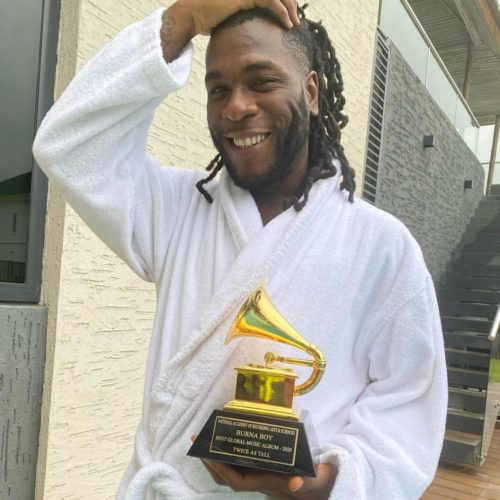 Ever since he took delivery of his Grammy Award Plaque, Burna Boy has not been able to get his eyes and hands off it.
The self-acclaimed African Giant is bent on making his haters pay for all they did to him after he lost in the last Grammy Awards to Angelique Kidjo. Burna Boy, whose real name is Oluwadamini Ogulu has been taking his plaque everywhere with him, ever since it got delivered.
As a matter of fact, the "23" crooner took it along with him to the club yesterday and that is not even all. He shocked his fans when he drank champagne off it, giving a hint of its versatility.
This, has, however, sparked series of comments on social media, as some seem to link it to his arrogance, while others just see an over-joyed artist, who is busy basking in self-satisfaction.
You will recall that Burna Boy's "Twice As Tall" album stole the spot of the Best Global Music Album. "Twice as Tall" won the award over records by Antibalas (FU Chronicles), Bebel Gilberto (Agora), Anoushka Shankar (Love Letters), and Tinariwen (Amadjar).