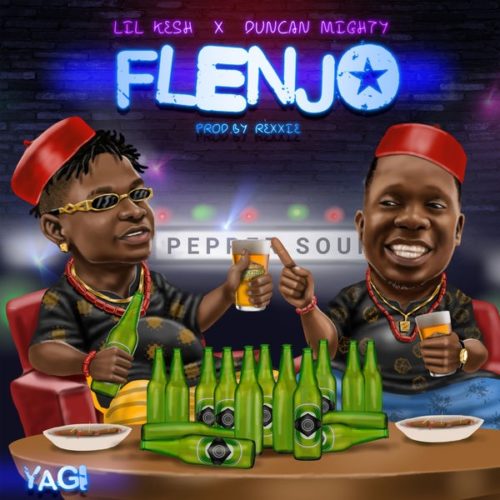 Ah!
Abeg yem yem two bottles of stout, I cannot kill myself
Abeg yem two plates of Nkwobi too, I cannot kill myself
Wowo
I must to jaiye mi (jaiye mi) Flenjo (Flenjo).
The comeback and rise of Duncan Mighty in 2018 will go down in history as one of the fastest and amazing thing to happen. His first single of the year "Fake Love" blew us fast all thanks to the contribution of Starboy Wizkid.
Duncan Mighty has since then set the pace as he also had a massive contribution on Tiwa Savage's Lova Lova and now hopes to replicate the success of that as he teams up YAGI Boss Lil Kesh on Flenjo
Here what we think about the song.
@Neefe_nawti It is a beautiful and sonorous piece from Lil Kesh. A thoughtful move to bring Duncan Mighty on the song further made it one that will bring 'smiles' to the ears. Sounds like a classic highlife; the beat, the voice and instruments all compliment one another.
The song compelled Lil Kesh to change his style and he still felt comfortable. As for Wene Mighty, i do not need to commend his contribution on the song because its a norm for him to kill songs even before Fake Love, he is a genius for me. This song will amass numbers surely.
@tommy5smith The beginning of Flenjo is the selling point of the song as it got me at first listening and am sure am not just the only one that got hit by this part. Well Flenjo is something different from what Lil Kesh have been releasing after he left YBNL cos when i first saw the song 'Lil Kesh featuring Duncan Mighty' i was like; this Lil Kesh will come and be shouting again and why will Wene Mighty want to stress himself on this one but my perception changed when i heard the song.
Without much talk, Flenjo is a classic record you can always relate with to get the stress off your mind and body. It has this highlife and groovy vibe, it brought our Lil Kesh to the calmest level and he still blend in; i applaud him for that and also Duncan Mighty for bringing out this side of Lil Kesh; this just made me feel Lil Kesh still needs some fatherly contribution to bring out more of him.
Flenjo is that classic record and masterpiece that will gradually and surely hit music charts, What Do You Think?
---