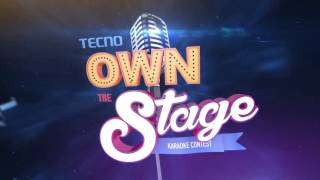 Every episode of #TecnoOwnTheStage gets more interesting than the previous. No doubt, episode 11 was electrifying as Harrysong landed on the Tecno stage with two hit songs and the audience couldn't get enough.
This week it will be YBNL's sensation, Adekunle Gold coming to town with Sade and Orente! You certainly do not want to miss this one.
The judges were far too kind with the contestants last episode as they spared the bottom two from going home. This week we are almost sure that one person will be going home, who is it going to be? Who will the top three contestants be? Make sure you do not miss the second to the last episode of Tecno own the stage.
Not letting the cat out of the bag. Follow the link for more.
Catch full episode here >>> https://www.youtube.com/channel/UCbG37SOg6yfKXnD0byZUkUA on our YouTube channel.
Join the conversation and stay updated on social media!
Facebook https://www.facebook.com/Tecno-Own-The-Stage-1620883718194632/?fref=ts
Twitter – @tecnoowndstage
Instagram – @tecnoownthestage 
 Be sure to like & share content with your friends using the #TECNOOwnTheStage hashtag. Tell your friends to tell their friends to support favorite contestant, voting polls would be open soon on the website. Win a TECNO gift pack by sharing!
TECNO's Own The Stage shows on:
Sundays – Africa Magic Showcase at 19:00 CAT
Sundays – Africa Magic Urban at 21:00 CAT
You can watch the repeat broadcast on:
Tuesdays – Maisha Magic East and Maisha Magic Bongo at 18:30 CAT
Wednesdays – Africa Magic Family at 19:00 CAT
---