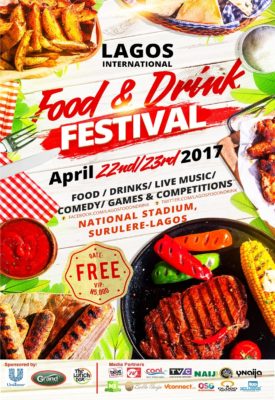 It's a weekend of plenty fun and adventure plus a weekend to indulge in a lifestyle where your biggest decision will be how to pick which activity to attend!
The 2017 Lagos International Food and Drinks Festival and The Beer Festival, Lagos holds April 22-23, 2017 at The National Stadium, Surulere-Lagos. Save the date.
Visitors can expect to experience the largest ever showcase of native cuisines (over 200!), finger-licking grills, mouth-watering burgers and sandwiches, and healthy dose of veggie foods. As if that is not enough, there would be a lavish abundance of drinks -from smoothies to fresh coconut juice, cocktails to ice-chilled beers!
At The Beer Festival-Lagos, beer fans will be thrilled to a massive choice of beers- over 30 brands! There will also be a huge abundance of wines and champagnes, distilled spirits, vodka, tequila, rum, whiskey, gin, brandy, absinthe, ouzo and liqueur drinks.
What's more?
The weekend's non-stop entertainment will include:
Live Music, Comedy shows, Sales Bazaars (up to 50% off), Competitions (including cooking, eating, drinking, dance, singing and stand-up comedy; Fun games (including table tennis, Chess, Scrabble and Fussball, and an exciting playground and load of fun activities for kids), Sweepstakes and Raffles!
Other Performances- (exciting Hip hop and cultural dancers. Also features Odd acts including magicians, fire eaters, Jugglers, acrobats, plate spinners etc.)
At the festival, soccer fans will not miss out on any action and can watch live premier league actions on Saturday and Sunday on big screens at the Festival!
   The after-party
…..and if you have space for extra thrills, then dare our huge after-party for more drinks, dance and fun (8pm -11pm)
Festival visitors are encouraged to book tables of at least four people, and bring friends, family and work colleagues to enjoy great food and live music washed down with drinks served by dedicated ushers.
The 2017 Lagos International Food and Drinks Festival and The Beer Festival, Lagos
Date: April 22-23, 2017
Time: 10am-11pm
Venue: The National Stadium, Surulere-Lagos
Gate: FREE.
VIP-N5,000
Log on to www.lagosfoodanddrinksfest.com for more info
Lagos International Food and Drinks Festival and The Beer Festival, Lagos is proudly sponsored by Unilever, Grand Cereals and Lunchbox and ably supported by tooxclusive.com
---