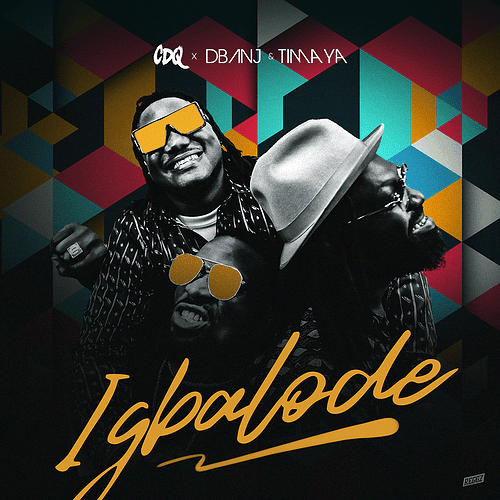 CDQ comes through with a brand new song title "Igbalode", featuring D'banj and Timaya. The Jay Pizzle produced record is a perfect blend of Afropop, Amapiano and Rap. This lovely song spiced with melody and powerful lyrics is a must have, you can't afford to miss out on it!
D'banj introduced "Igbalode" with his acapella vibe and unique voice, CDQ & Timaya came in on Verse 1 and 2 respectively. The three bestie sing about the essence of time, their message is simple- 'Life is turn by turn, do not with another man's time'. Everyone has their own time to hustle/struggle, time to succeed, time to flex and enjoy.
Sodiq Abubakar Yusuf born May 6, popularly known by his stage name CDQ, is a Nigerian indigenous hip-hop rapper and songwriter best known for his singles "Indomie" and "Nowo E Soke". While the former is instrumental for launching his career into the Nigerian music industry, the later won him his first career award. Signed to his label No Struggle No Success Entertainment, CDQ's repertoire of music includes rapping in Yoruba language with addition of ad-libs such as the popular "Woss Wobi" which he invented.
D'banj is an Afro star that emerged in 2005, and has been dishing out back to back hit songs since inception. Timaya on the other hand is a multiple award-winning Nigerian singer and songwriter. He hails from Odi, Bayelsa state, South-South Nigeria, and is well known for his incredible blend of Afro-Caribbean/Dancehall/Reggae music and other music genres.
"Igbalode" produced by Jay Pizzle has additional strings by Fiokee. CDQ, D'banj and Timaya are vocal about Time, do not work with another man's time. Work with your instinct, move on your own pace and enjoy what life offers you.
Notable Lyrics
"Igbalode, igbalogba, igbalode, igbalogba
Omo na turn by turn
Igba mi lode, for this life na turn by turn…."
Watch and Enjoy Igbalode official video;