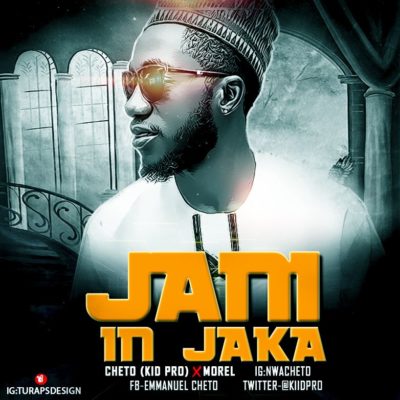 Emmanuel Cheto , known by his stage names Cheto aka KiidPro, is a Nigerian rapper that has the potential to be one of the greats. Born to  Rev. & Mrs Cheto who was the General overseer of Christ Ambassadors Chapel, Nwacheto was brought up in a music environment. He played both the drums and the keyboard, and was a member of the Church choir. Born and raised in Jos, Plateau State, the Chetos moved to the FCT in 2001. He grew up listening to the likes of Eminem, Talib Kweli, Fela, Nas, Ludacris and many more that influenced his type and style of music. Cheto officially went into music in 2010, since which he dropped his first joint mixtape 'Royalty' (under First Kings). He has also worked with several other artists and released a number of singles such as, Lamentations (ft. UY), Fly Away (ft. Ghetto P, and Supreme Solar), and Better Days (ft. SydThaKid[Chicago based rapper], and JayO). currently working on his first solo mixtape called 'God With Us, which houses the earlier released singles 'Sucidal Ft. U.Y'  and 'San Komei'
Connect with him via his social media handles below:
IG…Nwacheto
[email protected]
FB- Emmanuel Cheto
Download and enjoy
Cheto (Kid Pro) – "Jani In Jaka"  ft. Morell

"Cheto (Kid Pro) – "Jani In Jaka" ft. Morell", 5 out of 5 based on 1 ratings.
---