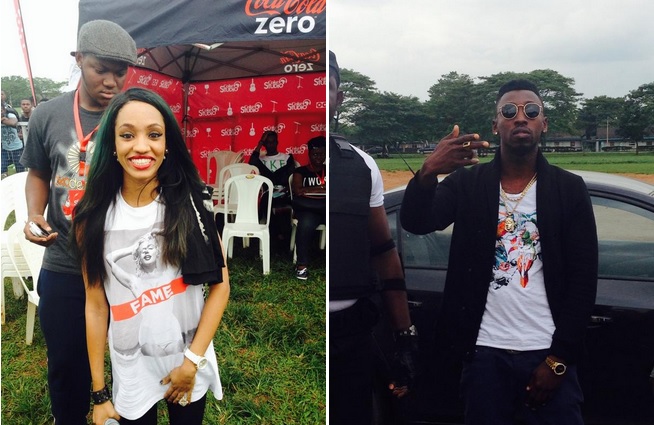 It was a cloudy afternoon on Friday the 5th of September but even nature knew better to hold still so Coke Studio Africa could thrill LASPOTECH students and the Ikorodu community to a fabulous day out with Mavin new comer Di'Ja, Alhaji Orezi and music Taliban, Oritsefemi.
After attendees had besieged the venue earnestly awaiting the show's kickoff, the gig was officially declared open with the announcement of a selfie competition. Smartphones were whipped out from their neatly tucked places and the 'pose & snap' began. Following after, would be a rib cracking comedy session with Dee-One Comedian. He exuded presence with a choice selection of jokes and cracks which he shared amidst cheers and rancorous laughter.
Runner-up of MTN Projectfame season 5, Oyinkanade led the line up of guest features on the Coke stage. The Vivace Records artiste performed his debut single, Adura as with a medley of other Yoruba classics which were accompanied by well choreographed routines by male dancers.
Up next, would be a series of vocal and dance competitions shared into rounds for male and female participants. With DJ Lambo spinning the steel wheels, the competitors had to out-sing and out-dance each other in order to emerge tops. It was stiff as no one was going down without putting up a good and tough fight. The rap battle was especially interesting; while one or two competitors took it Western by delivering contemporary-styled rap lines, others paid obeisance to their local origins with the all too popular indigenous style of rap (yes, I'm thinking Olamide too). Later, it was revealed that the winners of the vocal challenge and rap battle will perform on stage alongside Orezi and Oritsefemi respectively.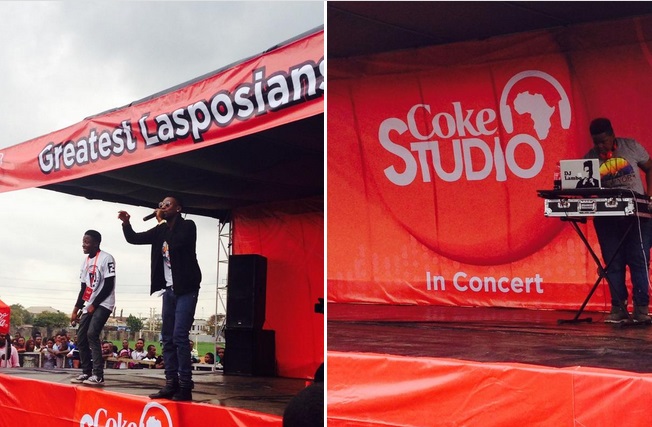 Several minutes later, enters Di'Ja and her Mavin dance crew. She built good hype with her rendition of Yaro Remix as the great Laspocians kept chorusing Yaro intervally on the hook. Of course, the absence of the entire Mavin crew didn't mean she wasn't going to make them miss out on some Dorobucci fun. Di'Ja referred to the Laspocians as Mavins and welcomed them to performing the hit song with her. They sang with glee and excitement and with their vocal getting louder on the lyrics they enjoyed most.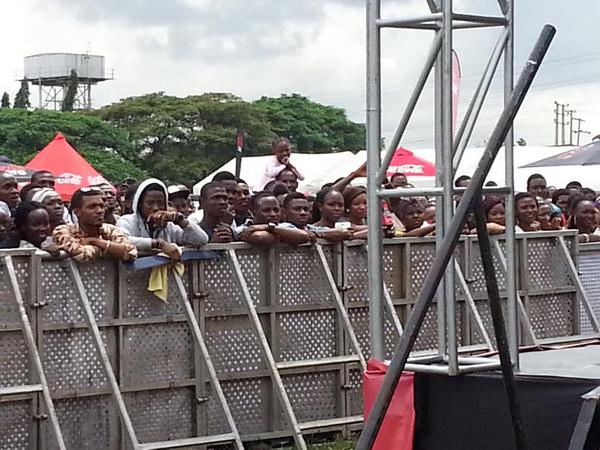 It was Orezi's turn to excite the Laspocians and boy, did he thrill them. He performed alongside winner of Coke Studio LASPOTECH vocal challenge, Zicofour. Songs like Rihanna, U Garrit and Shoki got the Laspocians actively engaged. A mini dance competition was a last minute addition to his act in order to reveal LASPOTECH's Mr & Miss Shoki. It was quite a hilarious show.
There was another guest feature from Seriki whose performance was to introduce music Taliban, Oritsefemi. He began with his popular gospel favourite, Mercies of the Lord and then continued with a medley of his secular hits including Sexy Ladies and Double Wahala. It was intriguing to hear his live, raw vocals hitting those notes even as he sang to a backing track. The adrenaline rush became very visible when he got off the stage to meet and greet with his fans. Save for security, the barricade would have given way to the pressure force. In one word, he was… entertaining!
The winners and runner-ups of Coke Studio competitions took away prizes that ranged from custom-designed headphones and earplugs to branded T-shirts, mini speakers, mp3 players and of course, ice-cold bottles of Coke. Even after the show was officially declared closed, the Laspocians hung around a little while longer to savour sound treaties from DJ Lamborghini. I especially want to credit the set-up team for effectual time management and organization. A lot was put in place to ensuring it was a very good job well done.
Reviewed by Jim Donnett
@jimancipation