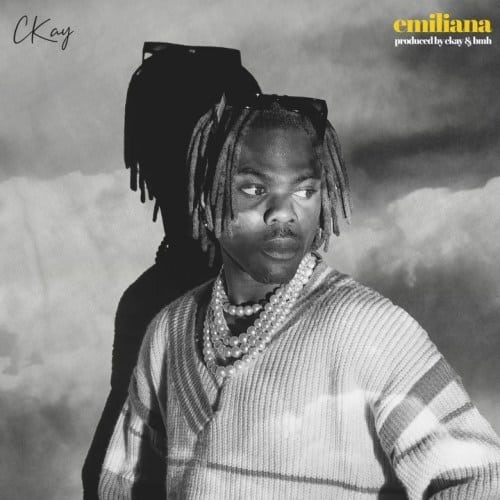 Numerous Nigerian Songs songs have been recorded as the best songs to come out of the year 2021.
However, it is impossible to actually put a number on the number of songs that fall in that category. While we have given you a list of the songs recorded as the best out of 2021, we do find it necessary to also let you know that you may have missed the following great records out of the year 2021.
Whether we recognize them or not, the following songs did amazing well and had wide acceptance from fans worldwide. Peep list below:
Emiliana – CKay

CKay dropped Emeliana on us like a bomb following the massive success of his hit song from way back in 2019, Lovenwantiti. Just at the point when we had not yet recovered from the shock that kept bombarding us from the sequence of success from Love Nwantiti, the emo-Afrobeat singer comes through with yet another banger, Emeliana.

Just like Lovenwantiti, Emeliana also went viral on TikTok, owing to the regular promotion from the artists himself. CKay continues to prove himself as one who is yet to stay. Emeliana is also a love song dedicated to a lady, Emiliana. It's a song that could get you lost in its catchy lyrics and amazing rhythm. Kuddos to CKay on this one.




Never Stopped – Buju

Never Stopped is a track produced by Timi Jay, off Buju's debut Extended Play, "Sorry I'm Late". The EP is now that goes on to preach Buju's untapped potential.

The singer wants us to know that he has got a whole lot more to deliver in the world of music. A lot more to achieve, as well as, going on to speak about his versatility, You're looking at a mix of Burna Boy and 2Baba, With a sprinkle of Khalid and Frank Ocean).

Celebrate Me – Patoranking

The song by Patoranking is a deep and thoughtful song off the stables of Patroanking, Ebute Metta's finest. The dancehall artist dropped this song to convert a powerful message to his fans and all music lovers.

The song says to remember our loved ones while they are still very much around. Give people their flowers while they are still alive, rather than waiting till their painful exits from the world.

Celebrate me, now when I dey alive. Young Willis takes production for Celebrate Me.

Beggie Beggie – Ayra Starr ft CKay

Beggie Beggie is an amazing song from an amazing duo, Ayra Starr, all the way from Mavin records, as well as, CKay, who did justice to his verse of the song. Beggie Beggie is a song about a player who did not plan to fall in love with one of his flings but ended up finding himself head over heels with her.

This is pretty much the reality of some guys out there. One amazing thing about the song has to be the sync in their vocals. It's beyond magical.

Move – Bad Boy Timz

Nigerian singer and songwriter, Olorunyomi Oloruntimilehin, widely known as Bad Boy Timz has dropped the song "Move" and fans are going crazy about the new song because it has all the right vibes. Move was released in the year, 2021 which has started making a huge trend and gaining lots of streams on the digital streaming platforms.

Rosemary – Victony, Savage

Sensational Nigerian singer, Savage unveils a brand new single titled, Rosemary off his forthcoming album "Utopia". Savage teams up with Powerful vocalist, Victony who delivered beyond expectation on the track.

Bling Bling – Blaq Bonez ft Amarae , BNXN

Blaqbonez premiers another masterpiece soundtrack dubbed ''Bling'' as he teams up with Ghanaian female singer, Amaarae and Nigerian serial hit-maker, BNXN on this tune, full of vibe and potential. Bling Bling was on our lips for weeks, months even due to its unique beat and tempo.

Ghanaian sensation, Amarae also had us drooling over her effortless vocals for the longest.

Early Momo – Vector ft Good Girl L.A

Talented Nigerian, rapper, Vector premiered a brand new track titled, "Early Momo" featuring Nigerian songstress, GoodGirl LA on this impressive tune. No doubt, Good Girl LA definitely added the juice and sauce to this tension rising.

Production credit goes to Talented Music producer, Mr. Klebb. The jam was released in the year 2021.

Teni – Hustle

Hustle is a song by Teni and it serves as a follow-up to her song with serial-hitmaker, Davido on their joint, For You. Hustle comes off Teni's album, WONDERLAND.

Hustle gives an insight into the struggles of the artist, alongside the pressure of being famous and how she deals With mental health. The song is such a touching one that helps us understand what goes on behind closed doors in the lives of celebrities.