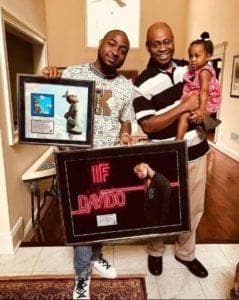 The Adelekes had a rare family moment when Davido held his plaques as he posed with his father and daughter, Hailey.
In February this year, TX news reported that Davido received multiple plaques for the successes of his 2017 hit songs: IF and Fall. At the time, IF was certified diamond while Fall was certified platinum.
Recently, Davido was in the mood of celebration, reveling in his musical success and he decided to take a shot of three generations of the Adeleke family. In the process, he showed off his diamond and platinum plaques for 'IF' and 'Fall' respectively. Each of the Adelekes in the shot wore lovely smiles as they took the shot that many have been describing as the perfect definition of a family picture because it depicts love, success and achievement.
Watch video below.