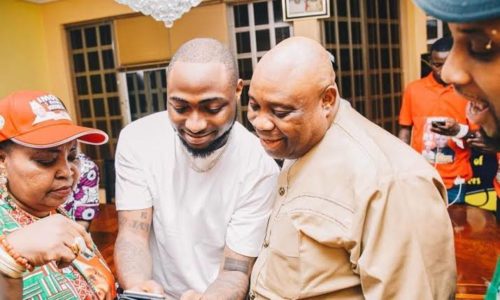 Davido has once again gotten involved in the current political saga in his state of origin, Osun State between his uncle, senator Ademola Adeleke and the current governor of the state, Gboyega Oyetola.
There has been the existence of power struggle between both politicians since the gubernatorial election of the state in September 2018 that has generated a lot of controversies.
Just few weeks ago, a tribunal seated in Abuja nullified the victory of the All Progressives Congress candidate's victory, Gbenga Oyetola at the last governorship election and declared Davido's uncle, senator Adeleke as the legal winner.
Since the verdict by the tribunal, there has been a back and forth on the actions to follow the verdict declared, Gbenga Oyetola has taken the case to the appeal court to have the tribunal's judgement reversed and nullified.
Also, prior to the step to take the matter to the court of appeal, Senator Adeleke was accused and charged to court in order to have the approval that gave him the opportunity to participate in the election withdrawn after some irregularities were reported to have been found in his O'level certificate.
He however won the case as the high court declared that his certificate is fine and there was no illegality found in how he got the results.  But just again this afternoon, it is being reported on the internet that the APC candidate; Gbenga Oyetola has filed a law suit against Senator Adeleke to have his senatorial position denounced.
On seeing the news, Davido took to his Twitter page to condemn the move by the current governor. He also describes the move as an act of desperation and admonished Oyetola to vacate the seat and accept an arrangement that has been designed by God.
He wrote; "Desperation at its peak, Oyetola must go…this shit is getting embarrassing and ridiculous! You lost your election sir! Accept God's will and vacate , Thank you…Now back to what i was doing."
Desperation at its peak https://t.co/E5kk0y1sM5

— Davido (@iam_Davido) April 29, 2019
Oyetola must go … this shit is gettin embarrassing and ridiculous! U lost your election Sir ! Accept Gods will and Vacate Thank You .. now back to what I was doin ? ?? ?

— Davido (@iam_Davido) April 29, 2019