OBO no go minus…..
Nigerian singer, Davido is trending on Twitter for a good reason! The FEM singer has shown fans that he is the biggest artiste in Africa after 20,000 fans showed up for his Fans Concert.
30BG organized a Fans concert to celebrate Davido and his music after he canceled his Away concert and other shows because of the death of his son, Ifeanyi. To make him feel better, they organized a fan concert where they gathered to sing his hit songs.
Davido Fans concert is trending and many people have positive things to say about this display of affection. According to M.I Abaga, Davido's Fans Event is one of the purest expressions of love he has seen in his life.
"The @davido fans event is one of the purest expressions of love I have seen. For a truly deserving and kind soul! I pray David feels all the love and light he has created in the world at this moment. Love and light…"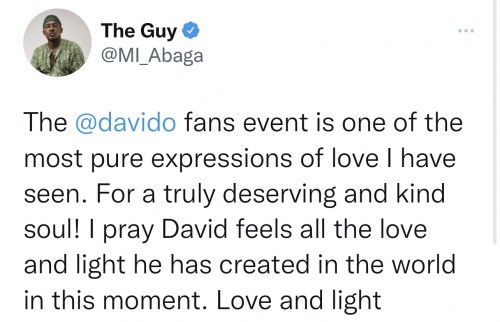 View this post on Instagram