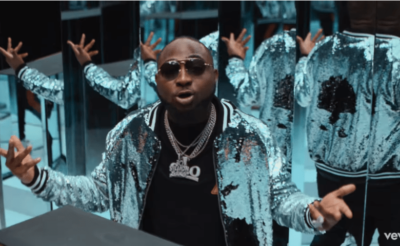 If there are two things i will authoritatively and unapologetically admit keeps Davido ahead of other music artistes in Nigeria, they would be hardwork and creativity.
In terms of contents put out, features on songs, shows performances, tours embarked on as well as 'turn-up' for fellow artistes, both elite and up & coming; he has proven himself to be the most hardworking.
Also regarding creativity, he is way ahead of other artistes, and this is evident in the numbers his music videos have amassed in times past, still currently amassing and in the more recently released visuals for "Wonder Woman."
It is quite easy for me to adjudge him the most creative Nigerian music artiste based on his videos because they have made him the most watched Nigerian music artiste ever on social media channel, YouTube.
Not diverting from the topic, Davido recently released a new hit single; "Wonder Woman," which trended on social media almost immediately after its release.
Since the release of the song, it has gotten positive reviews from different angles of the industry due to its sweet tune, and further exploded on the internet as a result of the release of its sleek visuals.
The Dammy Twitch directed video is such a "wonder" creation that celebrates various African women.
In the beginning of the video appears popular tribal mark female model; Adetutu Alabi, as the first "Wonder woman" of the video. The reason i was gassed at watching her in this scene is because, i never thought of all models alive, Davido would have opted for Adetutu.
Adetutu once expressed her regrets at having tribal marks because of the victimization she is always subjected to. And to have her on the visuals of such a beautiful song by Davido would not only encourage her, but inspire others that are suffering from almost a similar ordeal, and also to make her know she is beautiful and appreciated. This is another way Davido has upheld his popular saying; "We rise by lifting others" and it keeps giving me goose bumps whenever i watch the video.
Also in the video, there is the celebration of different African women. Many of these women who are entrepreneurs, Business owners, Entertainers, Philanthropists etc. had autonomous scenes to themselves in the video, projecting their beautiful faces and smiles to the viewers in order to make us a have a thorough understanding of how special, wonderful and amazing the African woman is. These scenes are glittering.
Lastly, the last scenes are the greatest highlights and most wonderful of the video. If the off-the-scene circumstances surrounding these scenes are critically thought about, you will understand that this video preaches love, understanding, unity, happiness, maturity, harmony, bond, freedom, beauty and many other gracious words that right now are unthinkable for me. I know you are eager to know what scenes i am talking about, and i am sure when i finally let you have a clue of the scenes, it definitely must have been/would be your favourite after watching the video.
These scenes are where the 3 women in Davido's life appears. His first baby mama, second baby mama and his current girlfriend.
Having to convince these women to appear in the same video shows what kind of a man Davido is. Considering the rivalry between these three women, many would consider it impossible to have them accept being on the same project.
And apart from applauding the success of convincing them to be on the project, the thought of this alone is laudable. In the scenes, Davido's second baby mama; Amanda, is seen carrying their daughter who was all smiles, the same thing applies to his first baby mama, Sophia and Imade, before Davido capped it all up with a hug and a kiss to his girlfriend, Chioma who is seen doing what we know her to do best, cooking.
In addition, the fact that this video is different from what Davido does is what has impressed me. The choice of simplicity for this video is perfect, there are no half-naked girls shaking their bums & promoting sultriness or sexiness, there is no Davido or any other person exhaling from their mouth smoke from a lighted marijuana or any similar substance. Simplicity is chosen all through and i appreciate it.
The video graphics are top notch, the scenes in the video are well laid out, the director Dammy Twitch passed so well for his first major project.
It is an awesome video that is full of thrills. "Originality always wins."
Written by Taiwo Oluwafemi 
Twitter: @neefemie
I.G: @neefe_nawti
---