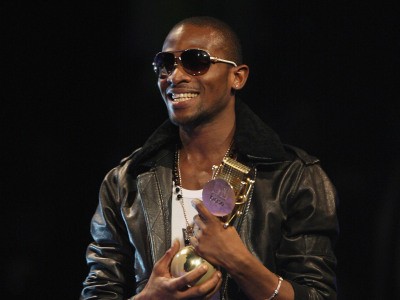 Music fans all over the world have spoken! You voted around the clock… you told everyone you know to support your favourite artist… and now you've chosen a local EMA winner! It's…
D'BANJ
D'banj is a Nigerian singer and songwriter as well as harmonica guru. He performs in Yoruba, English and Pidgin English. D'banjo is a superstar in his home continent, winning many music awards including Best African Act at the 2007 MTV EMA 2007, Artist of the Year at both the 2008 and 2009 MTV Africa Music Awards, and Best International Act: Africa at the 2011 BET Awards.
From now until 30 October, local winners around the globe will compete for the honour of representing their region in the race for the second ever Worldwide Act.
Congrats to all the local EMA winners! Here is the list of international artists who will compete along with North America's local nominees to be the regional nominee for the 2012 Worldwide Act EMA!
AFRICA-INDIA-MIDDLE EAST
Best African Act: D'Banj
Best India Act: Alobo Naga & the Band
Best Middle East Act: Ahmed Soultan
EUROPE
Best Adriatic Act: Who See
Best Belgian Act: Milow
Best Czech Act: Majk Spirit
Best Danish Act:Medina
Best Dutch Act: Afrojack
Best Finnish Act: Robin
Best French Act: Shaka Ponk
Best German Act: Tim Bendzko
Best Greek Act: Vegas
Best Hungarian Act: 30Y
Best Israeli Act: Ninet Tayeb
Best Italian Act: Emis Killa
Best Norwegian Act:Erik & Kriss
Best Polish Act: Brodka
Best Portuguese Act: Aurea
Best Romanian Act: Vunk
Best Russian Act: Dima Bilan
Best Spanish Act: The Zombie Kids
Best Swedish Act: Loreen
Best Swiss Act: DJ Antoine
Best UK/Ireland Act: One Direction
Best Ukranian Act: Alloise
ASIA PACIFIC
Best Asia Act: Han Geng
Best Australia/New Zealand Act: Gotye
LATIN AMERICA
Best Brazilian Act: Restart
Best Latin America North Act: Panda
Best Latin America Central Act: Don Tetto
Best Latin America South Act: Axel