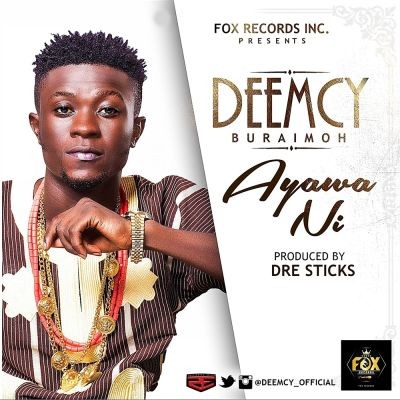 Deemcy Buraimoh, born Ibrahim Alaba Adebayo in Osun state, Nigeria, he moved to the UK as a kid where he started honing his abilities is singing and acting at a very tender age.  He returned to Nigeria in the late 2000s to face his music and movie career. Deemcy Buraimoh worked briefly with popular video Director, Akin Alabi before returning to school to study Dramatic Arts in the prestigious Obafemi Awolowo University.
Signed to Fox Records, the gifted Afro-Jazz/High-life artist teamed up with ace producer, Dre-Sticks to create this beautiful song about matrimony, titled "Ayawa Ni" (She is our wife).Drawing his inspiration mainly from his culture (Yoruba), the song boasts of indigenous vocals with soothing and well arranged harmony over the Dre-sticks produced instrumental. This is one song that is sure to stand the test of time.
Stay tuned for more quality contents from Deemcy Buraimoh.
DOWNLOAD Deemcy Buraimoh – "Ayawa Ni" (Prod. By Dre-Sticks)