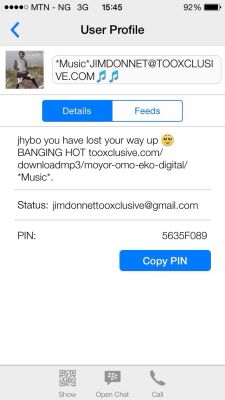 It has come to our notice that there is a certain imposter out there claiming to be Jim Donnett of tooXclusive.com who negotiates deals with unsuspecting individuals. The alarming rate at which ignorant victims continue to fall prey to his cheap antics and vices had impressed on us the need to issue out this disclaimer.
First of all, tooXclusive.com has never and will never ask artistes to pay for regular music posts on the site. It is only on ads basis, sponsored content and pinned/sticky posts that you will be required to make necessary payments.
Secondly, if under any circumstance you will be required to make such payments, it will never be to personal bank accounts of any tooXclusive staff. The company's account information will be made available to you for such transactions.
Thirdly, Jim Donnett features on tooXclusive.com under the designation of "Editor/Content Manager". He is tasked majorly with developing creative content as well as regulating same for the website. Many of you have come to know him through series of his published editorials and articles. Only on very rare occasions, as work pressure sometimes demands, he attends to materials from upcoming artistes through his official mail [email protected] and so to the best of our knowledge, Jim is NOT a music PR person neither is he into the business of such.
Thus, we're asking you to please disregard immediately any infos including BBM pins, Gmail addresses and social media accounts (especially Facebook) as they are unauthorized and not associated with the real Jim Donnett. Anyone claiming to be a staff of tooXclusive and requiring you to deal personally with him/her especially on monetary issues should please be reported first and then ignored. It will pay you to heed to our warning as we do not want more people falling victims. We will not be held liable for whatever risks and detrimental consequences people might find themselves in failing to do so.
For all music requests/inquiries, please mail to [email protected]
For adverts and other related info, please mail to [email protected]
Keep visiting your number one source for African music and entertainment and also connect with us on:
www.tooxclusive.com
BBM Channel C004E7BF0
facebook.com/tooxclusive
twitter.com/tooxclusive_com
Instagram.com/tooxclusive_com