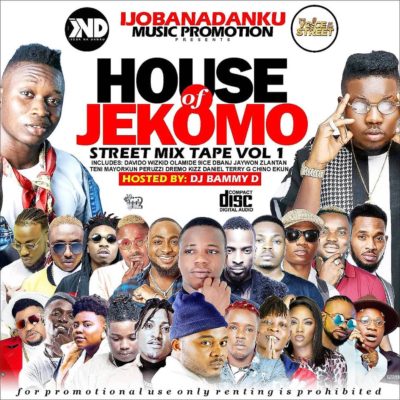 International Street Promoter Ijobanadanku debuts his first House of Jekonmo street Mixtape vol 1 which features Nigeria's Top and next rated artiste like Tplay, Oluwaseun, Odumahook, Danny S, Richeemoney and lots more.
It's a banging Hip Hop Mixtape for the season.
Download and Enjoy!
TRACKLIST
1.Intro – IjobaNaDanku Vs Dj Bammy D
2.Teni – Case
3.Bharry Jay – Don Pablo
4.Wizkid – Fever
5.BurnaBoy – Gbona
6.Olamide – Motigbana
7.JuniorBoy – My Vibe
8.SeunKobbe Ft Davido – Omololo
9.Terry Apala – Baca
10.Dj Bammy D Ft HeftyDrumz – Tomorrow
11.Terry G – Chinmo
12.Davido – Nwa Baby
13.Perruzi Ft Davido – Twisted
14.Cdq Ft Davido – Entertainer
15.KizzDaniel Ft Davido – One Ticket
16.Dbanj Ft Tiwasavage – Shake It
17.SeunKobbe – First Thing First
18.Skiibi – Sensima
19.Oduma Ft SlimCase – WonDa
20.MayourKun Ft Dbanj – Oshepete
21.Dremo Ft Mayourkun – Dapada
22.Wizkid Ft SlimCase – Gucci Snake
23.SeunKobbe – First Thing First (Repeat)
24.Oduma Hook Ft SlimCase – WonDa (Repeat)
25.SlimCase – Kalamo
26.Sammy Oma – Lomo
27.Danku Ft 9ice – Alo
28.DannyS – Oh My God
29.Tplay Ft Olamide – When Money Dey
30.Seunkobbe – Pata Olosho
31.Mayzee – Gwara Gwara
32.Danku Ft Dan Marlic X SeunKobbe – Ijoba Federal
33.Dan Marlic – Foyin
34.Richie Ft SlimCase – KamapadeMo Rmx
35.SuperBalat Ft Reminsce – Omo Local
36.Seriki Ft Reminsce – SakaManje
37.DemmieVee – Tiff
38.Jaywon – MaSun
39.Kyla Cole – Up Nepa
40.Ak Mogazy Ft SlimCase – Thurgan Rmx
41.ZlanTan Ft Lilkesh – Jorgor
42.Chinko – Able God
43.Churchill Ft Seriki – Inside Life
44.Icek Ft SlimCase – 4gwireless
45.Idowest Ft Davido – Ji MaSun
46.EleniYan – Yahoo Lawon Oremi
47.Gen2G – Ororo
48.Olamide – Ronaldo
49.Jakuzzi – Eko Lon Kpe Bi
50.Otega Ft Cdq – Stay Woke
51.Nasty C – Mrs Me
52.Dan Marlic – Healing Juice
53.Outro – Dj Bammy D Vs Niniola & Pepenazi & IjobaNaDanku

"DJ Bammy D – "House Of Jekomo Mixtape Vol 1″", 5 out of 5 based on 1 ratings.
---