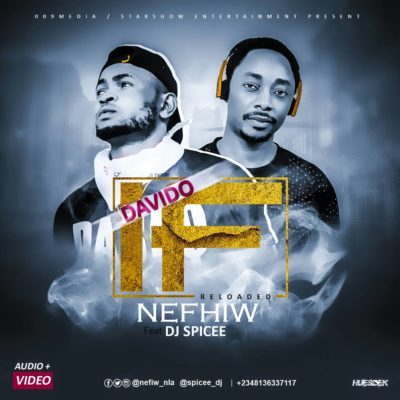 Abuja's number one top DJ Spicee  the CEO Starshow Records collaborates with the Hit maker NEFHIW ( 009 Media front man )  on DAVIDO'S  single titled   "IF". The song is titled "IF RELOADED" ( DAVIDO cover) Dj Spicee X. NEFHIW .    NEFHIW is a young promising and talented artist based in Abuja. This smash hit single was recorded in 10 minutes at Starshow Studio Abuja and trust me this will turn up and turn down the club because of the additional tones added up by Abuja's number one producer SAMMIX. When Davido hears this he'll be like wow…………….
Starshow Records  is taking over this year! Anticipate and watch out for more singles but for now go ahead and download the hit of the moment and remember to thank me later for making you dance.
DJ Spicee & Nefhiw – "IF Reloaded"

"DJ Spicee & Nefhiw – "IF Reloaded"", 5 out of 5 based on 1 ratings.
---