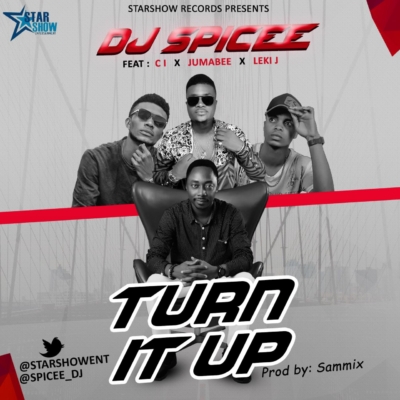 Dj-spicee is a popular DJ in Abuja who has played in different functions, local and international events. He's also the CEO, STARSHOW RECORDS. Dj-Spicee released a song last year titled GOOD MUSIC FT. LEKI J &C. I. The song was a bomb. It has been in good flow even until now. Because of the strength of the song, a remix was considered.
Few weeks back, someone walked into the studio and stumbled on the song.. The remix was ready, however, there was a little challenge before the release. Jumabee who was featured in the remix of GOOD MUSIC shortly came out with his song titled I MISS GOOD MUSIC… . Jumabee said " I don't know that the title of the song was GOOD MUSIC.
The controversy was for him to promote two songs with almost the same title. However, Dj-Spicee and Jumabee sat on the matter and came up with a solution… DJ-Spicee is set to release GOOD MUSIC rebranded which was also titled TURN IT UP featuring JUMABEE, LEKI J &C. I…..Catch the new title, the new voice and enjoy the flow.
Dj Spicee – "Turn It Up" f. Jumabee, Leki J & C.I