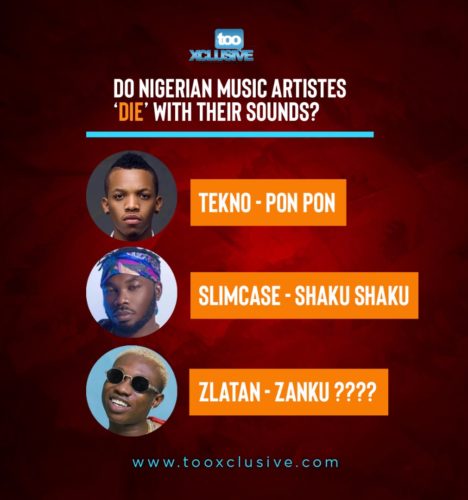 Nigerian music is blessed with lots of extraordinary talents and many of these talents do a whole lot to make sure their skills and crafts are well projected to music lovers in unilinear and as well as dynamic forms which spells wide acceptance and appreciation.
But in as much as what is common in the Nigerian music scene is more of dynamic sounds, there are artistes who constantly follow a sound pattern/trend to make their music. The likes of Slimcase, Tekno, Mr Eazi are artistes who follow or are synonymous with a particular pattern of sound.
Slimcase introduced the Shaku-shaku trend and followed through that trend with the release of his songs in 2018, Mr Eazi and Tekno are popular for doing the Pon-Pon sound which was so big until the early weeks of 2018.
However, one thing that is quite noticeable is the fact that since the Shaku-shaku and Pon-pon pattern of sounds are no more in demand, these artistes have struggled to make a major impact on music like they did in the era of these sounds.
Slimcase has lost the recognition and acceptance he had when Shaku-shaku was trending and both Mr Eazi & Tekno have been struggling to find form amidst the irrelevance of the Pon-pon sound.
So with what is evident in the music life of Slimcase, Tekno and Mr Eazi, are we right to say that Nigerian music artistes find it very problematic to stay relevant once their kind of sound is no longer in vogue, do they 'die' with their sounds?

"Do Nigerian Music Artistes 'Die' With Their Sounds?", 5 out of 5 based on 1 ratings.
---