The EP in brief
The intro, available only on the full version of the EP (see attached), features forewords from M.I, Lami, Djinee, DJ Klem and DJ Atte, touting EFA as the future of Nigerian Rap, and the EP as top notch.
The name, Waka, borrows on the derogatory Nigerian slang that has all five fingers of the human stretched to their limits. Each track on the EP represents a finger on the 'Waka hand'. Track 1, Green Light represents the thumb. Track 2, Number One represents the index finger. Track 3, F U represents the middle finger; Track 4, Put a Ring On Your Fingerrepresents the wedding finger and finally Track 5, Gamble With your Life represents the pinkie finger. 
Hither to, EFA has been popular for his love themed and inspired rap verses on the Remix of Mo'cheddah's If You Want Me; DJ Klem's Try Again as well as his very own (leaked)One More Chance. He has had the opportunity to work with the likes of M.I, DJ Klem, Lami, Beazy, Yemi Sax and host of others.
The seasoned Hip-Hop influenced producer, Big Foot represents the Ogba-Lagos based production team, Micworx. He has worked with the Nigerian Hip-Hop collective, Str8buttah; Plumbline, 5mics, Pasha and many others.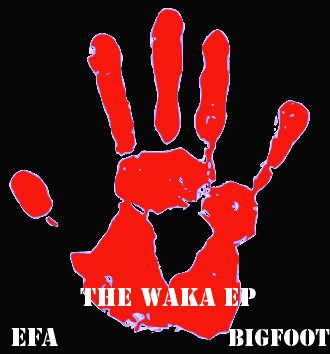 Track Listing 
Track 1 
Green Light
 —
http://www.4shared.com/audio/GhuSoTyi/01_Green_Light.html
Track 2 
Number One
 Feat. Jemal — 
http://www.4shared.com/audio/iOfl5zat/02_Number_one_ft_Jemal.html
Track 3
 F U Feat. Pasha
 —
http://www.4shared.com/audio/1uWM2yxc/03_F_U_ft_Pasha.html
Track 4 
Ring On Your Finger
 — 
http://www.4shared.com/audio/Rk_73OSc/04_Ring_On_Your_Finger_ft_Yemi.html
Track 5 
Gamble With Your Life
 — 
http://www.4shared.com/audio/pnA_7JTZ/05_Gamble_With_Your_life_ft_Zu.html
The Whole EP
 – 
http://thewakaep.4shared.com
---