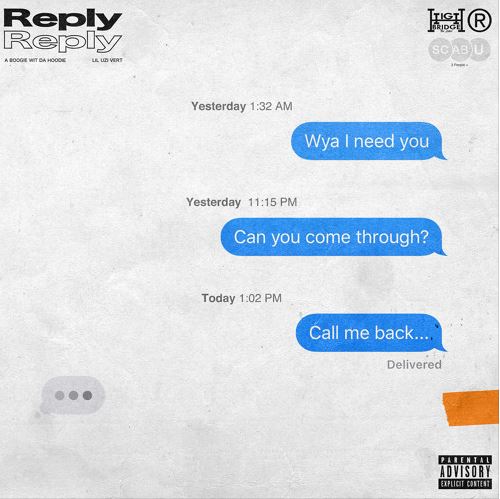 A Boogie Wit Da Hoodie and Lil Uzi Vert Team Up for New Track "Reply" from Highly Anticipated Artist 2.0
Multi-platinum hip-hop artist and entrepreneur A Boogie Wit Da Hoodie drops his second offering from Artist 2.0, featuring two-time Grammy-nominated rapper, singer, and songwriter, Lil Uzi Vert.
Marking the second time the two have collaborated, "Reply" percolates with desire and longing, and finds the pair questioning the motives behind their lover's interest and whether or not it's real.
The track begins with Lil Uzi Vert/If I write you girl will you reply/before he goes on to denounce that she only wants him "because life is televised, can see all the lies in eyes." Uzi's crooning rap continues to lament a love who doesn't want him the way he wants her. The track escalates as Boogie joins, filled with the same deep-seated longing and craving for a love who doesn't feel the same for him.
The two weave together an intensely melodic and smooth track that draws in the listener enveloping them in the deep desire-laden verses. "Reply" simmers into a slow burn as Boogie laments/If I write you can you reply/leaving the listener with a sense of longing, wanting more.
Listen to "Reply" by A Boogie Wit Da Hoodie ft. Lil Uzi Vert below and Enjoy!