Last Updated on Jun 4, 2022 | 19:54 by aL Yhusuff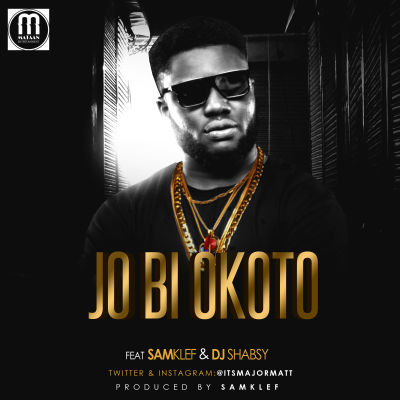 Mathew Olatomiwa Alajogun popularly known as Major Matt is a UK Based songwriter, recording artiste, actor, a music and film producer signed under an Ibadan based,  entertainment company "Mataan Entertainment"
Born January 26th, he found music as the best way to express himself, combining a strong work ethic as a musician and as an actor.
After teaming up with Samklef on 2 singles "Baseline & Banana Love" last year 2015, Major Matt is back but with a good dance joint featuring the Klefsound CEO, Musician and Producer, Samklef and Soundcity TV/ G-Worldwide 4ever Dope Dj Shabsy titled "Jo Bi OKOTO"
The Samklef produced song is a pretty lovely tune if you ask me and worthy of being on your playlist.
Downloading Is a must!
Enjoy!
DOWNLOAD Major Matt – "Jobi Okoto" ft. Samklef & DJ Shabsy