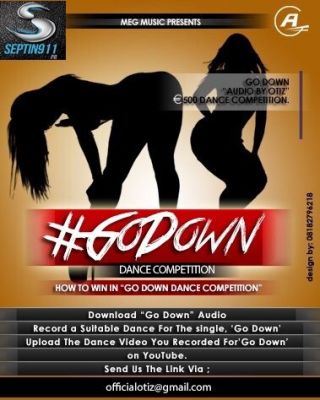 @iam_otiz | Multi-talented German-Nigerian singer, Otiz returns with a spanking new potential hit single tagged 'Go Down'.
Following his previously released mind-blowing singles featuring different a-list artistes who have complimented Otiz' credibility as hardworking artiste who is not relenting on his oasis of becoming a top-notch talent to reckon with, Otiz drops yet another striking tune, 'Go Down.'
Otiz  in his new single, 'Go Down' sings about his beautiful damsel who stunned his mind, rhythmically expanciating how her well-structured-body captivated his attention like chocolate city's music diva, Victoria Kimani.
'Go Down' is a song that has enjoyed positive reviews from music critics and it is expected to generate massive buzz from music listeners and lovers worldwide.
'Go Down's' music video has been scheduled for release, after announcing the winner for the 'Go Down Dance Competition' where the winner will win a whooping sum of £500.
How To Win In 'Go Down £500 Dance Competition'
-Download 'Go Down' audio
-Record a suitable dance for the single, 'Go Down'
-Upload the dance video you recorded for 'Go Down' on YouTube,
-Send us the link via; [email protected]
Follow Otiz on Twitter | IG: @iam_Otiz and be updated his recent activities.
Download & enjoy audio below