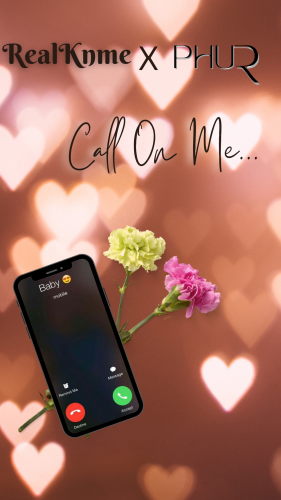 REALKNME AND PHUR SERENADES LADIES WITH NEW SINGLE "CALL ON ME".
Talented producer, songwriter, and performing artist Kelvin Obakoro, popularly known as RealKnme releases his single, 'CALL ON ME' . This tune is a laidback afro r&b vibe with and catchy hook delivered by R&B sensation Phur.
The producer who cut his teeth with super Nigerian music producer and mixing engineer Tee-Y Mix, Realknme has been behind the music scene producing and mixing songs for artists such as Erigga, Lyta, Duno and a host of others.
Following his last project 'Kele' which was released in June 2022, 'Call On Me' is a follow up to inform fans and listeners that he is still here and will continue to churn out great music.
The project features a fresh take on the afro r&b scene in Nigeria. RealKnme says "I wanted to make music that is different from all the sounds right now; something the ladies can enjoy and vibe without compromising on delivery. "Call On Me" is me just calling out to the beautiful women out there that no matter what, I'll be there for them.
Call On Me by RealKnme is out and is available for download and streaming on all digital platforms.
STREAM/GET HERE!