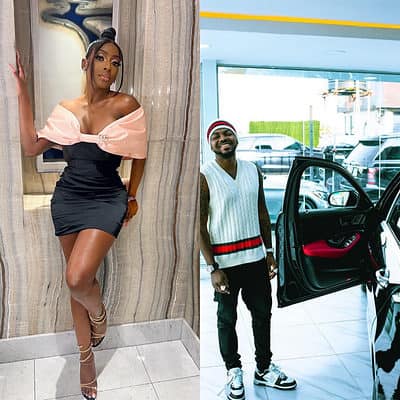 Wahala no dey finish for obasanjo internet!
DSF accused Skiibii of orchestrating a robbery while they were on vacation in Zanzibar, and he has responded. Miss Dorcas Shola Fasposn shared that her ex-boyfriend, Skiibii made away with some of her valuables. Her revelation was aired during an interview with media personality, Chude. During the interview, the disc jockey narrated how she and Skiibii were on vacation, while her Rolex, her MacBook, her van clef bracelet, and $10,000 were stolen from her.
Following the viral video, Skiibii's management released an official statement last night about Skiibii's name being defamed. They also added that DSF's valuables were not the only things that were stolen. According to the report. Two Diamond necklaces b) One rose gold Cartier wristwatch c) Diarnond rings (4 pieces) d) One !phone; and cash in different currencies.
Read the statement below;
PRESS RELEASE
The label has been inundated by messages and telephone phone calls from friends and well-wishers regarding an interview ("the interview"), granted by one Dorcas Shola Fapson (aka Ms DSF)- the estranged lover of our artist, Mr. Abbey Elias (aka Skiibii).
In the interview, the estranged. lover made inferences to the fact that she was robbed while on vacation with her ex-boyfriend. Specifically, she stated that her mobile phone, laptop, and other valuables were stolen, while she and her ex-boyfriend were asleep at their resort in Zanzibar, Tanzania.
Whilst the above matter has been referred to our lawyers for appropriate review and action, we wish to state for the records that;
a. Skiibii and DSF once went on vacation to Zanzibar on 19th June 2022 and returned to Lagos on 25th June 2022. b. The trip was paid for by the estranged lover as a birthday gift to Skiibii, as she stated that she would not be around for Skiibii birthday – 5th July 2022. c. The villa where Skiibii and the estranged lover lodged was robbed on 22nd June 2022, as well as other neighboring villas and the following items belonging to Skiibii were also report. missing-a) Two Diamond necklaces b) One rose gold Cartier wristwatch c) Diarnond rings (4 pieces) d) One !phone; and cash in different currencies. d. The matter was reported to the Tanzanian police immediately on 22nd June 2022 and statements of all the victims were taken, including that of Skiibi and his estrang. lover e. Skiibii and his estranged girlfriend no longer felt safe in the said villa, accordingly, Skiibii booked and paid for a new villa for the rest of their vacation. f. Upon their return to Lagos, Skiibii bought a new iphone forhis estrang. lover to replace her stolen phone. g. Prior to the trip, Skiibii had gotten his estrang. lover a new macbook pro laptop, which she did not travel with and as such it was her old laptop that was stolen. Accordingly, there was no need for Skiibii to replace this item. h. Skiibii's cartier rose-gold watch was stolen in the raid and he bought the silver variant of the watch in September 202, as the stolen watch has not been recovered or found by the Tanzanian police. The new watch was purchas. in South Africa and delivered to Lagos by Skiibii's friend – Larry Gaga.
Please remain assured that Skiibii is law-abiding citizen and he will be seeking redress for the defamatory statements made by the estrang. lover in the court of law.
Signed, Management More Grace Music World
See post below;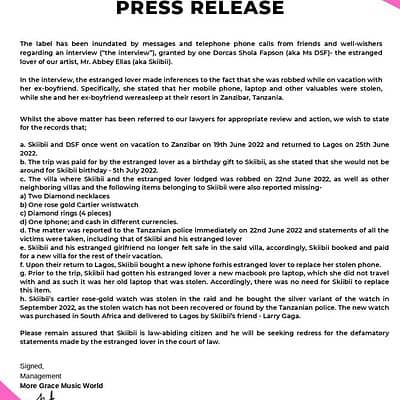 Watch the video below;
View this post on Instagram