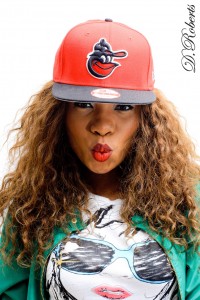 Born Modupe-Oreoluwa Oyeyemi Ola, Mo'cheddah was once the darling of Nigerian music fans, till she left the house at knight, and her fans and the whole Nigerian music public were left in the dark.
First time i heard Mo'Cheddah was on the track "Knighthouse ft Tha Suspect, Mo Cheddah and Clarence Peters", that was in 2009, i never really paid attention. Same year i heard her on the monster hit track back then "The Finest (Wonberi)" by Knight house ft Saucekid and Teeto Ceemos. The way she took her hook with that tender voice with confidence, not letting herself get relegated by the two heavy weight rappers was very impressive.
Mo'cheddah later teamed up with Skuki to do the track "Stamina" which also dropped in 2009, and also became a hit. I later found out she was signed to Knight house, and i knew she was going to blow up. It was evident, as everything she was on back then was a hit song.
She then made use of the hype she was getting and later dropped her first single "If you want me" which was a single off her debut album which would drop later in 2010. By the time she dropped her single, i was already in love with her voice and her the progress she was making. Her debut single was perfect at that time, she was more like talking indirectly to the Nigerian music fans indirectly in the love song: "If you want me, to ba fe mi, you got to take me as i am, don't be afraid i got you". These words stuck in my mind.
December 2009 during my NYSC back then in Maiduguri, I was at work and i came across Mo'cheddah's mix tape titled "True Christmas" and i was blown away, she made a big impression with that project.
The video for "If you want me" later dropped in 2010, with a follow up single "Ko ma roll" which i must say was a smash hit single, both off her "Franchise Celebrity" which later dropped October 2010, and did really good for a debut album.
The album was so good she won two international awards, MTV and Channel O awards respectively, even though she narrowly lost out at the Headies Awards (Biggest Entertainment Award in Nigeria), it was obviously a Mo'cheddah year in 2010.
2011 was quiet from the diva, due to her tertiary education, but she still dropped a single "See Me" featuring then label mate Phenom. A video to the song soon followed same year. The song was an instant hit by the way.
Unfortunately, She hit the top and everything began to crumble. First she had to take some time off to complete her education at the University of Lagos, then she became a topic on twitter for the wrong reasons, when her nude pictures surfaced online, and then in February 2012, to the shock of everyone she called it quit with her record label Knight house.
She dropped 3 singles in June 2012 titled "D'ting", "Louder" and "Lady" which were mean't to be off her sophomore album "Super Changed" , but unfortunately even though the songs were really nice,but it couldn't resurrect her already dying career, caused by the negativity that had piled up over the last year. Same year she dropped "Coming For You" ft May D, but that again was overlooked.
From 2012 not until recently, we heard nothing from Mo'cheddah, not until recently in April 2014 i came across "Destinambari ft. Phyno (Prod. Cobhams)" and i had goose bumps after listening to the song, the DIVA is back i tweeted after listening. From the beat by Cobhams the genius, to Phyno's verse and to Mo'cheddah's soothing voice and beautiful lyrics.
A befitting video for the song later followed, and a follow up single "My Time" dropped days ago. After listening to the song and watching the video, i thought to myself: Is the storm over? Is Mo'cheddah making a BIG comeback? Is it going to be her time soon again? Only time will tell.
In my opinion, following her 2 recent singles, she seems to be on the right path to success again, and i wish the diva success.
Written by Tosinadeda 2014