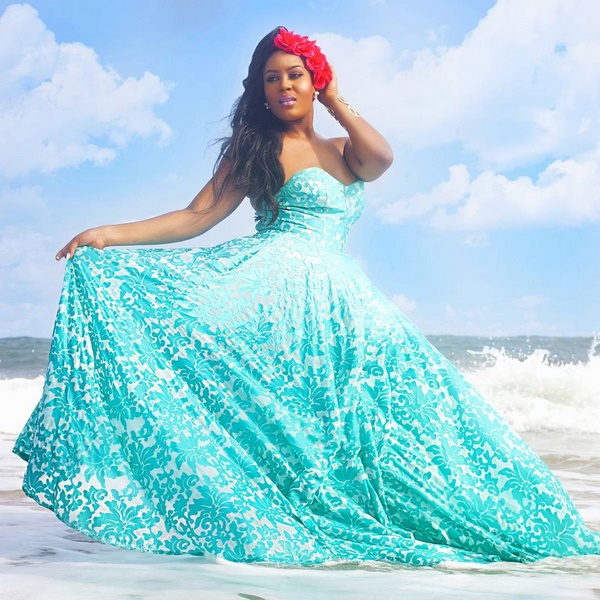 Emma Nyra definitely is not the first thought or choice of female music celebrities to be discussed long as affairs pertaining to the Nigerian music industry is concerned. I mean, when there's Tiwa Savage in all of her clandestine essence, Yemi Alade with her quintessential afro jabber, Seyi Shay even and her controversially surpriseful yet blightly unaware element. So why Emma? Well, that's what imma tell you 'bout now.
Emma Nyra had it rough at Triple MG. I can tell you. For a lady with such vocal talent the order of her reigning queen counterparts, she was stifled a little lot under the Ubi Franklin-led leadership. So the problem is not that Emma can't sing. Fvck, she can! But to have had only 'Elele' and 'For My Matter' as lead singles released in the 2-year period, is it? Something was definitely not going right in that camp. Elele even featured Davido at the time he was really buzzing and sweeping awards in the 2014 year like littered dirt on an expressway. Still, the singles didn't get the required attention to lift her up the female strata of the music industry. It was possible at that time to list ten hot female musicians and leave out Emma Nyra. What am I saying, we actually did that. As in by mistake of forgetting to actually remember her oh. It was that bad. She was just there, wasting her fine voice and freshly smooth, scantily clad thighs away. Painful!
I'm excited she finally decided to dump that platform and start doing her own thing, took her long enough though. For My Matter remix hit me like oh shxt! It had Patoranking on it and even though he showed some savage behaviour on the track (which we can agree is kind of like the in-thing now), the remix totally rocked. Fashioning her comeback was followed by the EP release, 'Love Versus Money'. You know where that title stemmed from? I won't help you speculate this time. But those two key words formed the pivot for every message dropped track after track. These two things had plagued her career with very devastating effects that almost turned her a shadow of her fast drifted self. So do not be phased when I say I'm feeling Emma as opposed to the obvious choice of the industry's triple threat femmes.
Again, the contention is not her shining vocal talent which exudes too much prospect. Hear her on 'Vex' where she glistens on the track alongside Cynthia Morgan and Victoria Kimani. Or is it Olu Maintain's NAWTi remix? After the quartet of Seyi Shay, Cynthia Morgan, Victoria Kimani and Yemi Alade had dropped some sonorous vents on the jam, it's like what else really was left. But in a stylish switch up, Emma totally locked down that outro verse showing us she had her own thing to give, which honestly was far better than what mama Africa had to offer on the track. No shade. So you can understand why her comeback excites me. Her re-entrance had some serious sauce. Ms Nyra bashed her way through with the Love Versus Money EP showing a musical diversity where she shone on every track. From 'Work Hard' to 'Make Money', then the Dammy Krane-feature 'Sakarin' to 'Drop It' and now the high life influenced cut 'One Chance'.
At this point, what I expect is that Ms Nyra would have a management structure already in place. 'Cos apparently it looks like that's what most good talents from home keep lacking. Her structure needs to be the working kind that will help her execute strategies that propels her to the top and even launch her overboard. Because therein lies the test of this inner 'beastess' in her now unleashed. She gotta keep moving and don't stop. This is definitely not a time to soft pedal. The EP has to be followed with newer singles. And as much as we're hearing her, we've also gotta keep seeing her. So we need videos too. She gotta keep going hard. It shouldn't take forever before we get to hear the lead single to her album debut. She's appropriately due for one even. That aside, there should also be processes involved for her music export. Ms Nyra should know by now that her sounds are very abroad friendly. Everybody is going international now. So she needs to maximize potentials from tapping into her fan base there. Afterall she's one of them returnees too.
Because really, that's how her high rolling colleagues found their way to the top. They just had to do their thing with apologies to nobody. And I dare say that she too can. You see, the world hasn't ever stopped being the first place for men. Heck, the world is so feminist now, men aren't even an excuse anymore. This is the era of the divas coming to age and now that Emma's awoken again, she better start smelling the coffee.
Written by Jim Donnett
@jimancipation
---