Simi and Falz, have been plagued with dating rumors, rumors both stars have continuously denied.
Simi, took to IG to share new photos of herself relaxing in the studio tagging one of the photos:
@falzthebahdguy hates these shoes, so I dedicate this picture to you ma nigga. Lool ??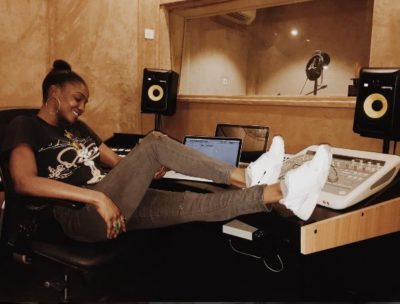 On her relationship with the rapper, Simi, in an interview with Pulse TV in 2016, said all they have his music chemistry.
In her words:
"Falz and I do have great chemistry, it is music chemistry, we get along great, we are actually really close friends, so I guess it also helps when we make music". the singer said.

More than anything, music is the most important thing for me, say whatever you want, it's fine, just enjoy the music".
Speaking on the same issue with Punch, Simi was quoted saying:
I am in a relationship with someone else who is not Falzthebahdguy; we are just friends. My man is mature and understands the fact that I may be erroneously romantically linked with an artiste simply because we work on music projects together.
On her love for music, the SMILE FOR ME crooner said:
I didn't grow up around a lot of music because my parents aren't music inclined. I wrote my first song when I was 10 years old. I have a very short attention span and it is one of the reasons why I experiment a lot with my music.

My parents separated when I was nine years old, so I did not spend so much time with my dad; he died in 2014. My parents were quite supportive of my career at first.

After I bagged a degree in Mass Communication, from Covenant University, my mother wanted me to get some job experience by working with an oil firm. I have always been of the opinion that its impossible to do music part-time, so I asked her to pray for the success of my music career.
Falz , who spoke with Channels TV's entertainment news in 2016, also weighed in on the dating rumors saying:
"At this point, we are not dating, but you never know what the future hold".