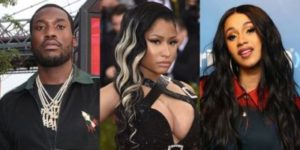 There was always this certainty of another looming beef between Cardi B and Nicki Minaj each time the thought of a collaboration between Cardi and Meek Mill comes to my heart. That thought is now becoming a tangible existence.
The track 4 on Meek Mill's comeback album; "Championships" is exactly that, and make no mistake about it, Twitter is loving every minute of it, at Nicki Minaj's expense.
Hip-Hop fans couldn't contain their mixed feelings when the snippet between Meek and Nicki surfaced the internet back in October.
Now the project has dropped and fans have started taunting Nicki, some even believe that in her verse on the song; Cardi threw shades at Nicki Minaj.
We can recall that Tekashi 6ix9ine's album dropped few days back which featured Nicki, and in her verse also, people suggest she trolled Cardi.
See posts:
Nicki Minaj listening to Cardi B's verse on Meek's album pic.twitter.com/0d1coY9KvE

— Haze (@DayHaze) November 30, 2018
Nicki when she hears the Cardi B feature on Meek Mill new album pic.twitter.com/LnY99kxpKE

— Ricky Rodriguez (@Nerdround) November 30, 2018
Nicki listening to this Meek & Cardi record#MeekCHAMPIONSHIPS pic.twitter.com/bp0pC1279Y

— michael cheque (@andtheniseeyou) November 30, 2018

Is another beef getting rekindled after they called truce on it few weeks back?
Drop your comments below.
---