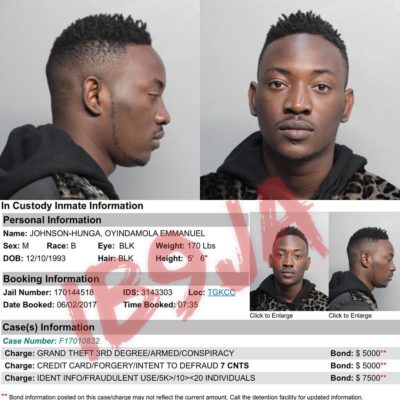 Since the shameful event of Dammy Krane's capture in far away Miami, US, over alleges that include grand theft, credit card fraud and identity forgery just so he could afford the advanced life of an artiste, a debate has stirred up amongst a variety of observing factions.
Amidst all of the deductions made from the arguments put forth, the major point of contemplation still remains 'why do our artistes feel the need to lead a fake life?'
This culture of having to parade dollar bills online, drive fast cars, fly executive carriers and pop expensive bottles, has hitherto introduced a sense of false arrival in the minds of many aspiring artistes, especially those who are simply after making heavy impressions, and in such little time.
The truth is, many upcoming artistes have a yearning to be seen in the light of a Wizkid or a Davido – which really is not a bad thing. Success should be motivating. However, the rate at which some artistes show off their earthly accomplishments has become quite alarming, and can pretty much drive feeble minds insane.
It causes idle minds to enter a deep, counterproductive soliloquy, and most times the end results of these thoughts are nothing near just or upright. It breeds greed, an unhealthy competition amongst industry colleagues, all jostling hard to measure up or surpass each others accomplishment.
Do Artistes Really Need To Be Fake?
---