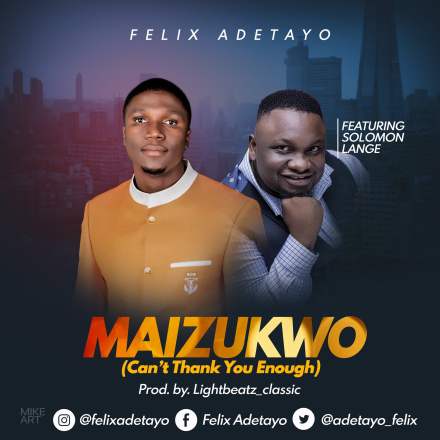 Smash9ja Promotions Presents, A Brand New Single From, one of the finest gospel Artists in Nigeria, Felix Adetayo.
Felix Adetayo has created a Dynamic and Unique concept of Gospel music that has over time distinguished him from the regular art of expression in music.
The song MAIZUKWO meaning (I Can't thank You enough) is an expression of deep gratitude from the heart, On Which He Features, Annointed Gospel Artist, Solomon Lange. Thanking God for everything He has done in our lives.
Produced by one of the finest Abuja Producer Lightbeatz classic
(A Little Insight Into The Song)
It says, I CAN'T THANK HIM ENOUGH FOR EVERYTHING JESUS HAS DONE FOR ME.
SINCE I WAS BORN AND UP TILL NOW, I CAN'T THANK HIM ENOUGH.
EVEN IF THE HAIRS OF MY HEAD WERE TO BE TONGUES, IT WILL STILL NOT BE ENOUGH TO THANK YOU.
---