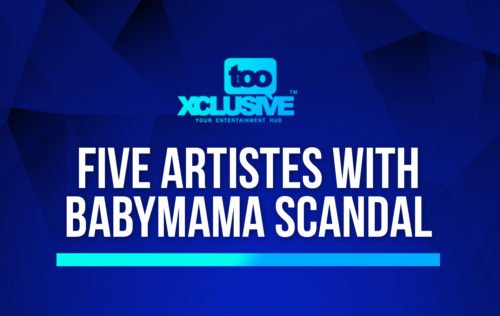 Many Nigerian Artistes see it as a thing of pride to be a baby daddy, which explain  why many  of them have babymamas. But they also forget that that the single parenthood is not easy so they end up with lots of drama from their babymamas and also a child. The following artists have all had public scandals with their babymamas.
Davido has been making wave in the music industry for a number of years now and at some point in his life had baby mama drama which posed serious threat to his high flying career . The pop star who was leaving the country with his daughter Imade a couple of years back was stopped from leaving the country by immigration officers at the MMIA as a result of his baby mama; Sophia Momodu  (who is a cousin of popular Nigerian journalist and businessman, Dele Momodu) not given her consent to her daughter travelling with his father as she and Davido have been disagreeing on who is to have the right to full custody of the child. Information had it as at then that Sophia was furious with Davido because the Adeleke family were trying to portray Coco Adeleke (Davido's elder sister) as the mother of Imade so as to get them the approval to leave the country in which Coco will be the one to take care of the child until she comes of age, denying  Sophia the biological mother an access to her daughter within those periods. There was another drama after the one with Sophia when a certain lady said she had Davido's baby. She said they met at a club in Ibadan and had a one night thing after which it resulted in her getting pregnant for the singer. The issue was later very well escalated by the lady and her mother, and they threatened to file a lawsuit against Davido. We guess a DNA test later absolved the singer of any paternal responsibilities.
Starboy Worldwide label boss Wizkid , has been called out on social media in the past by his baby mamas, and just recently his first baby mama; Shola Ogudu passionately and bitterly released stories of Wizkid's unfair treatment towards their son and herself .  This time, Shola had no mercy as she threw caution to the wind, and posted private chats they've been having as far back as 2015 in order to make the public have an understanding of Wizkid's failure as a co-parent to their son. Also not too long ago, his second baby mama Binta  Diallo who has in the past been throwing shades at the gifted singer via the social media also took to her IG page to say she has been keeping a lot on her mind about Wizkid's neglect of their second son, Ayo; and that very soon she will expose wizkid's shortcomings as a father to their son.
Nigeria singer and dancer; May D has had baby mama issues as well. May D and his baby mama, Adebola Olowoporoku trended on social media for the wrong reasons. There was even a time May D shared a video of his baby mama instructing his son to insult him on a certain fathers', day.  Adebola recently took to social media to reveal what led to the video, how she was beaten severally by the singer in the presence of their son and how he has abandoned him for more than 2 years. She further explained that it was a bumped video.
Nigerian super singer and melodist;  Oluwatobi Wande Ojosipa , popularly known as Wande Coal entered into a mess with his baby mama; Temitope . It was said that the 'Turkey Nla' crooner impregnated a girl at his early age and denied the pregnancy in order not to dent his already glowing career leaving, Temitope to carry the burden all by herself . Her son Joseph turns out to be a spitting image of Wande. The story travelled to Wande and his family which made them decide on having a DNA test to further ascertain if the boy is truly Wande Coal's. The result showed truly it is Wande Coals's child . Aftermath of the DNA test which confirmed Wande Coal to be the father, Wande's mother; Mrs Omolara Oluwayemisi Ojesipe arranged for a meeting with Temitope where she persuaded her to leave the child with her. Afterwards, it took Temitope a very long while to set her eyes on her child again, thanks to a human right lawyer Mr Kayode Oyemakinde; who got interested in the drama , and said Temitope should not only be allowed to see her son always, but also to be compensated in cash  for the trauma she has been made to go through in the hands of the Ojesipes.

"5 Artistes That Have Been Associated With Babymama Scandals", 5 out of 5 based on 1 ratings.
---