Still on the Wizkid drag season. Some allegations were made against Wizkid on the Loose Talk Podcast, 'that there was a time the Starboy locked up Dammy Krane & May D in a room and started giving them drugs such as cocaine to get sounds and melody from the singers'. The podcast was made by Osagie Alonge and he dragged Wizkid through hell and back (See post).
Mr May D has come to Wizkid's rescue as he denies the allegations of being locked up and pumped with drugs in a tweet on Twitter few minutes back.
It has been brought to my attention some false news going around saying Wiz accommodated me & gave me drugs as well as stole my melody. None of this is true. We both collaborated on a track called "Bamilo" which we never shot a video for & that's that!

— May D #9LIVES (@MisterMayD) 25 September 2018
For some people to try and bring down a Legend of our time !! I can't believe this @wizkidayo God will keep uplifting you and you will keep breaking boundaries!!! And as for you guys, Make… https://t.co/jYZczChx00

— May D #9LIVES (@MisterMayD) 25 September 2018
He also posted on his Instagram " WTF!!!! wiz never gave me drugs nor kept me in his house….now that's a very fucked up thing to say!! fuck this guys
See his post below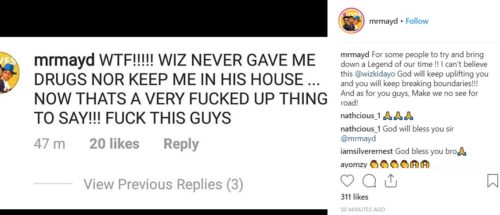 "Fuck This Guys, Wizkid Never Gave Me Drugs – Mr May D", 5 out of 5 based on 1 ratings.
---