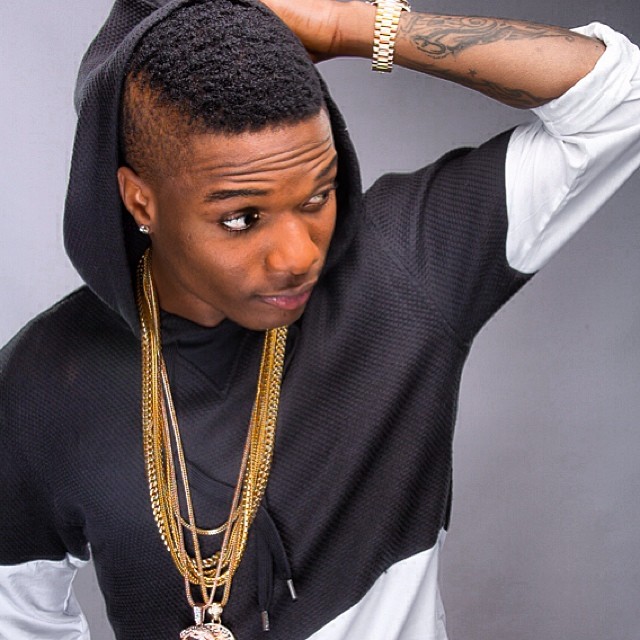 The long wait for Wizkid's second album has led to suggestions that the 23-year old music star is starting to doubt his own ability.
Wizkid came into the Nigerian music industry when we didn't have a wonder-kid, a boy-wonder or a whiz-kid. Fast forward 4 years after, the industry has been flooded with more talents that most cemetery cannot boast of. Wizkid remains what most budding Nigerian artiste want to be, he remains a force to be reckoned with but if care is not taken, it looks as if those days may be numbered.
When Wizkid released his first single "Holla At Your Boy" in 2010, it wasn't a spectacular song, let's not forget that the song was a sampled song by Se7en titled "Girls" we forgot that quickly as Wiz proved he's a game changer when he released "Tease Me" , a freestyle turned single where he gave props to several industry big boys like Eldee, Banky W, Wande Coal e.t.c. Wizzy came through on that track, I was one of his biggest fan, then.
Fast forward months later, June 12, 2011, Wizkid dropped a classic album, Super Star was born. Wizkid became a superstar. Fast forward 2012, Wizkid started to dismiss everybody behind the superstar project. Samklef, the man who produced most of the hit songs on Wizkid, was also dismissed.
Samklef isn't a great producer, but he was able to get it right with Wizkid, they made hits together, but Wizkid seems to find it easy to sack people.
Wizkid also did some work with Masterkraft, it looked like he could get it right with him, Masterkraft was able to create decent music with Wizkid on the EME album, Sarz, also. But ever since his well publicized feud with Banky W and the entire EME backroom, the quality of the music Wizkid made completely diminished to a staggering all time low.
Wizkid threatened to leave the label, if not for advice from a lawyer and probably educated friends, Wizkid might have ended up paying millions for walking out of his contract with EME in 2013, fortunately he stayed, but NWTS (Nothing was the same) *inDrake's voice*.
Wizkid started a "romance" with Disturbing London, a London based management, no one can really say how much Wizkid benefited from that move.
Later on, Wizkid sacked Osagie, the manager that was able to bake him, from the "arrogant twat" that he was when he was 19-21 to the superstar he was from 21 hitherto, then employed Godwin Tom. At this point it was obvious to the world that EME had lost control over their "money machine", he went on to form a record label, named Star Boy Entertainment.
Wizkid, real name Ayo Balogun Ibrahim moved quickly to sign 3 in house producers, Legendury Beatz (2 brothers) and Maleek Berry, this move highlighted his struggle with top notch music production-to his "style". Luckily Wizkid made a hit song with each of the producers, Caro with Maleek Berry, The Matter with Maleek Berry, aside those songs Wizkid started making sub-standard music.
His die-hard fans won't tell him the truth though, but "Talk" had to be the worse song Wizkid has ever made in his very successful music career, produced by Legendury Beatz, lets not forget Love You, a song many of his fans forgot Wizkid ever made.
The quality of Wizkid's singles continued to go down, his lyrics, recycled, there were calls from some angle that it is time for him to start buying music. It looked like Wizkid had noticed his production quality had dwindled then he quickly worked with Del B on On Top Your Matter, and Dr Frabz on two songs, Bombay and  One Question.
It's obvious now that Wizkid can see there's a problem somewhere, but pride won't let him. The solution might be simple – which is easy to guess. Wizkid needs to allow Banky W, who is a very intelligent and humble man, take charge of his career again. There is competition now, hit songs come out every day, this year alone we have had banging hit songs, in the past year we have had several superstars, it is easier than ever to forget a song someone has  released if it refused to stick.
It might be time for him to start buying songs since the producers he signed have refused to get it right with him.
Wizkid released two songs this morning, Joy and Bombay, it doesn't look like Wizkid is back. Does Banky W and EME have an idea Wizkid has released around 7 singles off his forthcoming album?
[hana-code-insert name='JobberMan' /]
Source: 36NG
---