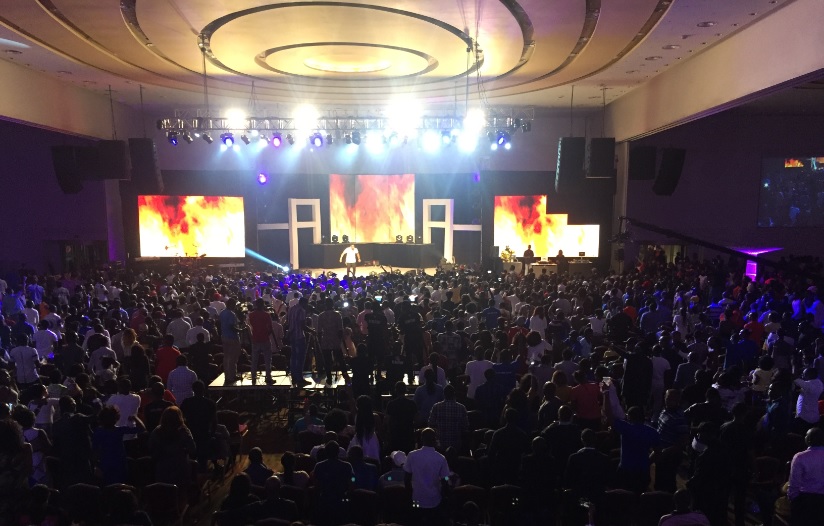 Lagos sure does like to party…
One word. LIT!
From the assemblage of artistes featured for this epoch event, to the general coordination, time management especially, stage performances and overall set up, the 'Naija Music Showdown' for Pepsi's Corporate Elite show this 2017 rocked on a variety of levels.
I think I finally found myself inside the hall of the convention center at the 11th hour of the night just about when Starboy L.A.X had taken the stage performing Awon Da and Gimme Dat. This would later be followed very closely by Dotman's rendition of My Woman and Akube, although with a backing track in play. The crowd roared the chorus lines to his uber-familiar song whose video boasts over 9 million views on YouTube. We can also agree that ex-housemate of Big Brother Naija, Soma, has been having quite a field time with the entertainment media since his painful exit from the reality show. He performed his debut, One Plus One.
Enters Lopo and Terry Apala, a scalding hot indigenous fusion, totally dismantling their just released collaborative effort, Ogu, which was the highlight for me that night. Both acts possess such stage presence, honing their craft in the art of live performance like age long A-listers. I daresay Phyno buckle up again 'cos Lopo is the future, and he is the truth! Moreso his association with Terry Apala is a much needed new wave that is reminiscent of what Olamide and Phyno once shared. I just hope Lopo's management are taking copious notes. Miracle crooner, Dice Ailes hit the stage hard with some fine energy only to later fall down off the stage in an attempt to connect with his fans. I laughed sha but as a gee boy that he is na, he gained composure like nothing even happened, delivering with a blazing swag.
Koker!!! I've since remained in total awe of Choc City's boy crush after watching him deliver impressively, his string of music hits that got the crowd emancipated. There was just something ultra special about his package last night. Oh, and did he also look good in that stylish trench jacket too. Hypeman Dotun came and did his madass ting alongside DJ Big N of the Mavins. They presented a medley of throwback classics. Reggaeton mistress, Emma Nyra took the stage with her booty twerking shawties, and performed my favourites; Drop It and For My Matter. The sound of Shiga intro sent us into another wild frenzy as the Lafiaji master came out to stunt on us with serious sauce in his suave. And the night kept going seamless until Skales. The Never Say Never star had to 'call out' DJ Nana a couple times who prolly got pissed and decided to pull the plug on his set. This was just after we turned up to Temper Remix and Ajaga. However, Skales faired say like 75 with the remainder of his acapella rendition. Wait wait wait, how dare me forget to mention that he even treated us to some rap. Fancy!
Sound Sultan's performance set equally followed the throwback trend. He got us really singing along to Motherland, Jagbajantis, Kokose and Natural Something. Things switched up at the tune of Street Credibility by Bashorun 9ice. But before we could even finish jamming to Gongo Aso, he had stormed off the stage – an act that left many of us stupefied as to reasons why he would have done so. Thankfully Oritsefemi saved face with his fine display of youth and those light skin clique that were doing all sorts around him. He later headed straight for the hall exit after his set instead of the back stage pass. 5-Star music general, Kcee, reminded us that Limpopo is one song that has really shaa-ed as some fans found it hard to pick up a groove in it last night. It wasn't so anyways with Fine Face though. And sadly again, he neither performed Pull Over nor his latest Romantic Call.
Baby boy, Falz made a spanking entrance with some girls costumed as college school hipsters from the hood. He set out to perform his special request hits including Soft Work, Soldier and Bahd Baddo Baddest. Pepsi would now introduce star of the night, Tekno, in a visual AD that otherwise conveyed a message of his new endorsement deal signing with the beverage brand. After we had taken a couple seconds and a little too more to bask at the emergence of the star on stage, he broke into the pop anthem, Pana, and continued with Diana, Rara and a brief skit of Davido's If, which he produced. Fans expressed disappointment as he signed out without delivering some Yawa goodie. Although chatter in the hall was that he perhaps wasn't aware that the song has blown, so he opted for a safe smart route out.
By now, the time read 2:30am on the clock. Naturally we should have been physically drained or showing signal if exhaustion for some of us. But the vibe was still so high and our bodies remained supercharged with bubbly morales that we apparently lost track of time. Dorodiva, Tiwa Savage slayed her 15-minute-long live set alongside her dancers led by the enigmatic Kaffy. Despite the technical fackups with the sound that kept flatting out on bass levels, Mami Jamil coursed through songs like African Waist, Keys To The City, My Darlin', Bad, Standing Ovation, even Korede Bello's Romantic and Patoranking's Girlie O, which she was featured on. At some point during Wizkid's cut on the song Bad, we honestly thought he was going to burst out from back stage in a surprise appearance. You probably guessed right, beggars rode our horses for that huge wish. Flavour closed the lineup for the long night of music. His live set consisted popular hit numbers Ada Ada, Nwa Baby (Ashawo Remix), Zoro's Ogene, Sexy Rosey and Wake Up (Ololo). Of course not without his signature erotica moves.
However, inspite of all the other excitement, we had hoped Pepsi would seize the opportunity to premiere the video for Come Closer, Wizkid's latest song with Drake seeing as he was unavoidably absent. Davido also missed out the opportunity to rain on us in person, the blessings of the 30 billions in his account (although the DJs had given us enough of that already to make up his inability  to turn up). We hear he had to be at SA since he'd be performing at the grand eviction show for Big Brother Naija tomorrow.
The 'Naija Music Showdown' was everything and much more than expected to be, IMO. Too much care and thought was given to the planning and execution of the epoch project. And I believe the objective of creating a platform for interaction between industry artistes and her fans was ultimately achieved. Also, certain artistes showed amazing growth with their stage craft, infact I was too impressed. Tekno, Tiwa Savage and Flavour opting for a live band set other than the usual backing track will in no time become the accepted directive in the tone modus for on-stage artistry. And they're doing very well being some of the industry's largely successful commercial artistes to reinvent this brave move for the new school to follow. Pepsi stayed on deck providing not only consolation items (gifts) and refreshment but also security for attendants of the night. Two lucky guests even smiled home last night with brand new iPad Air tablets, from a raffle draw competition that was courtesy Pepsi. I never mentioned that there wasn't a gate fee pass? 'Cos there wasn't! It was all turn up and turnt chills strictly on Pepsi's tab. Still, they say we should ask for more abi isit dare for more? Na real wah!
Reviewed by Jim Donnett
@jimancipation