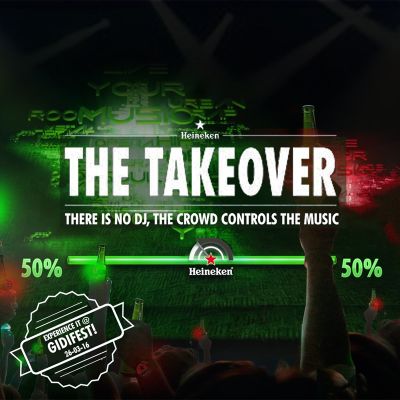 LAGOS, March 25, 2016 – Heineken® Nigeria is set to thrill music lovers with THE TAKEOVER, a unique and interactive music experience at the Gidi Culture Festival on Saturday, 26 March, 2016 at Eko Atlantic City, Victoria Island, Lagos.
THE TAKEOVER is an element of Heineken's 'Live Your Music' campaign, a celebration of music experiences that make people feel more alive – experiences tailored at giving passionate music lovers and 'live-rs' the opportunity to live the power of their music in more accessible and affordable ways.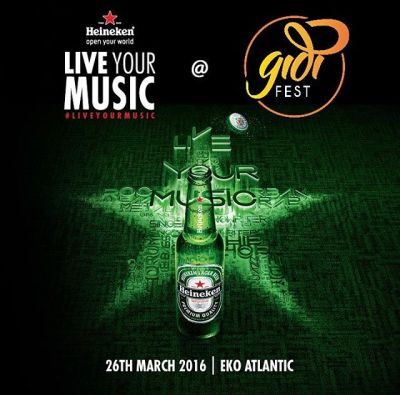 The session allows festival goers to 'takeover' from the music DJ and control playlists through customized wristbands available at the Heineken® stand. THE TAKEOVER also allows music lovers to enjoy a variety of unique music genres such as Pop, Jazz, Afro pop, R & B and more.
Create your customized 'takeover' playlist HERE
Heineken® leads in music and technology innovation, this is evident in the launch of the Heineken® Ignite Bottle – a smart bottle that interacts over music beats to create a more 'connected' party experience. The introduction of? THE TAKEOVER? validates Heineken's commitment to provide unique and exclusive experiences for their music-loving consumers.
Want VIP tickets to the Gidi Culture Festival?
Showcase your music knowledge by creating your customized 'takeover' playlist HERE
Using the hashtags: #HeinekenGidiFest and #LiveYourMusic, you can also contribute to the songs on THE TAKEOVER playlist.
The top 3 most retweeted/liked playlist with the hashtags wins VIP tickets to the festival.
---