Last Updated on Jul 11, 2019 | 11:18 by Taiwo Oluwafemi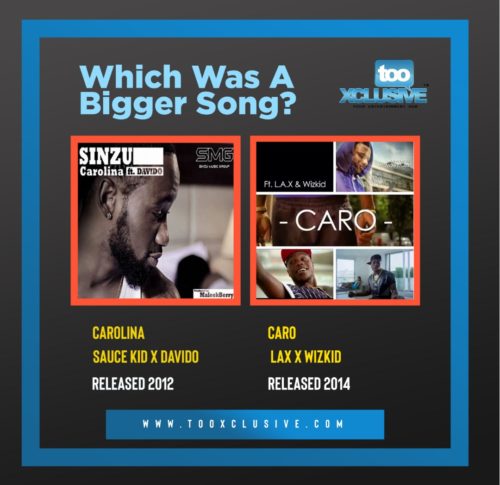 It's another time for our versus content where we pitch two songs against each other, seeking your opinion on which is a greater jam or which your favourite is.
This time around, we would be putting against each other two popular songs that were released in 2012 and 2014 respectively. These two songs featured separately Davido and Wizkid in which the owners of the songs are Sauce Kid and LAX.
These songs are titled; Sauce Kid's "Carolina" and LAX's "Caro" and both were great jams. When these songs were dropped in their respective years, they became so big that they dominated Nigerian radio and topped other songs on every relevant music chart in the country.
Their influences have however sprung up an argument as to which made a greater impact in the years they were released which has led us to having your opinion.
Sauce Kid "Carolina" Ft Davido VS L.A.X "Caro" Ft Wizkid – Which was the bigger song?