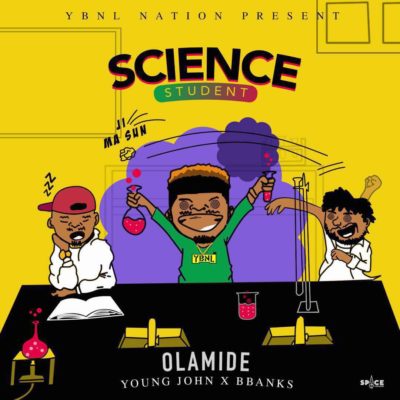 Kosewe, kosegbo, kosewe, kosegbo
Won ti po' mi gutter po, oju ti dirty
Won ti po chemical po, awon mo science students
It is something of much essence for an artiste to start a new music year with a bang. The blue print is to hit the stride early and keep the momentum going all year round. Olamide knows this and he was quick to put out his first record for the year, Science Student. It is left for you and I, the music consumers, to decide whether the song is hot or not.
We shared our thoughts on Olamide's Science Student below, join the conversation by sharing your thoughts in the comment section below. Let the comments roll in!
@dahnielz Personally, I think it is too early to have a new offering from Olamide. The Lagos Nawa album housed very few but decent tracks which could have been stretched into the early months of 2018. That being said, 'Science Student' is the song Baddo is using to usher us into the New Year and I must say, it is not an impressive one.
We know the shaku shaku season will dictate the tempo and most importantly the lyrics of songs to come. The new 'street genre' has allowed artistes to spit virtually nonsense on any beat that matches the trending dance move. However, Olamide might have taken full advantage of this to drop what is a very poorly composed song.
It goes without saying that Young John, is a decent wicked producer and that can be heard on the South African vibe he properly laced on this beat.
Like Olamide's previous single after Wo!, this one will soon be swept under the carpet.
Rating: 2.5/5
@ibironketweets Usually I'd agree with you, @dahnielz, that Olamide isn't the best lyricist and that his music usually lacks depth but not on this record. It is easy to confuse the roll out of slangs and parlance for promotion of vices, but on a second look, you'd see that Olamide is asking questions of the trend of drug abuse which has now almost become a culture of Nigerian youths. He did this with a line like "Khadija se wo mo'n wo lo kan yi, iwo omo ti mummy ran lo s'Harvard. Ore mi, you dey okay, you dey alright are you really sure."
I'm surprised that Olamide's taking the position of a moralist who masters the use of satiric lyrics and pun to tell off those who he referred to as "Science Students" – the masters of highing mixtures and dealers of numbing substances. I like the coded message 'cos it ensures that Olamide preaches without offending his core fans. It is simply brilliant and so is the timing of the record which allows the song tap into the shaku shaku trend and ensures that Olamide starts the year with a bang. Olamide gets everything right with this track.
Rating: 4/5
Any thoughts on the views presented above? Please proceed to drop your comments in the section below!