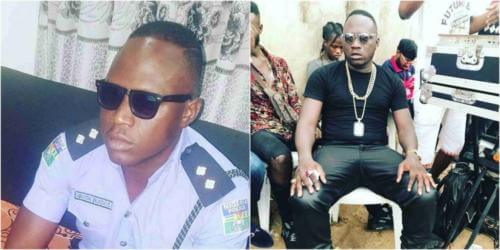 Popular police man and musician, Abayomi Ekundayo popularly known as Yomi Sars has declared that there was no time he ever mentioned that the Special Anti Robbery Squad (SARS) be ended.
You all would recall we brought you news of a video in which Yomi Sars was seen supporting and nodding in affirmation to the end SARS chat by some young men at a night club in Lagos.
The singer in an interview with Sunday Scoop has however denied supporting the campaign. He said there is no way he would talk ill of an institution that serves as his source of livelihood.
He also expressed that if SARS is ended, who will protect the properties and lives of the people.
 "Yes, I saw the post but there was no time I said end SARS. When I was about to leave a show in Surulere, Lagos, last Sunday, Zlatan Ibile saw me and started shouting 'End SARS'. He was obviously joking while recording it. I then asked why he was shouting 'End SARS'. That was what happened.
"The video is nothing. If it was an issue, I wouldn't have allowed him to post it. Captions by bloggers made it look like I wanted to sabotage where I eat from. If SARS is ended, who will protect the people?
"I wish all policemen are social media savvy like me. I am sure if they see the killings on social media, they will be more cautious while discharging their duties."
---