Last Updated on Jun 19, 2022 | 16:57 by Eniola TX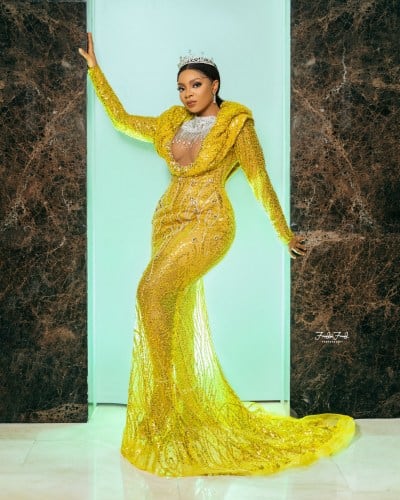 Ex Beauty Queen and Reality tv star, Queen Mercy Atang, has dropped a thank-you note to the organizers of Big Brother Naija for giving her the opportunity to participate in the show.
The Reunion show has come to an end and the housemate have gone on theri repsctive pages to thank Big Brother for the oppotunity to be on the show.
In a rather lenghty but emotional post, Queen spoke of her experince on the prestigious show and how much she wanted to quit it all.
According to her, she alsomot lost her mind during the lockdown period, but her perseverance got her through.
She wrote;
Getting into biggies house. What a beautiful colorful space.. I was first welcomed by @sagadeolu he took me to the blue room.
I started asking myself questions. What am I really doing here. Why am I not home watching and enjoying the show as others.
I quickly told the voice in my head shut up
This is big brothers house, one place I've dreamt of.
Anyways I gave myself one week to stay. At least y'all will know my name. Then after that I can tell biggie I wanted to leave it wasn't funny, my second week in the house, I was like one more week. Atleast They will know you more, guys that was how I kept encouraging myself in my head never to go for a volunteering exist
Now my stay in biggies house..
My darling @pereegbiofficial was the first guy I got attracted to. Dude was so tall, broad, white set of teeth and had a cute smile biggie why
Anyways I looked away and the next thing I saw another tall, cute, well muscled guy with dreadlocks walked up to me @bomaakpore and said hi dear, I made a space for you in the dressing room. I was shocked he cared to do that for me. I was like thank you. He said, can I show you the space? I said yes. He then took me to the dressing room.
I looked away and I was still enjoying my first stay in biggies house when I noticed another guy this time
An average height, light skin guy with beards. He was mopping the kitchen floor. I was like nawah see my specAny ways I rushed to him to get the mopping stick from him to help him finish up.
He said no don't worry I can handle it.
I was shocked he was really taking the kitchen work serious. Immediately @bomaakpore told me not to worry. He has been handling the kitchen affairs and he's really good.
Interesting.. As I spent more days in the house. this dude was so kind he allowed me eat from his provision that week cos I didn't have money to purchase mine yet as a new housemates.
Story to be continued. Read on the next post
What a journey it has been for me, I'm filled with so many emotions.
I'm happy and thankful to @bigbronaija @dstvnigeria for the opportunity given to me to be on the show.First as you all know, I came into biggie's house 2 weeks late.
I stayed in the lockdown house longer than others did. One full month in there, God's grace kept me there…
it was a long journey for my self @michael042sm @mrkayvee we thank God finally we got in. Thank you biggie
I can recall my stay in the lock down house. All I did was cry, pray, work out, look out the window, and wish I could step out.. unfortunately I couldn't. That was when I realized what freedom really meant. I was literally running mental. I was loosing my mind. My anxiety was dealing with me. I wanted to give up. I wanted to go back home to my mom. But then one thing kept ringing in my head. Who will believe my story. That I was close to getting into biggie's house but I opted out. Literally No one lol.
Secondly Queen do you really want to give up after coming this close, do you want to do this next year? The answer was No. So I fought my anxiety, I fought my fears, I fought the noises in my head that kept telling me to quit and I made it to the house.
Gym wear available @monarchwears__ send in your orders
See Post:
View this post on Instagram