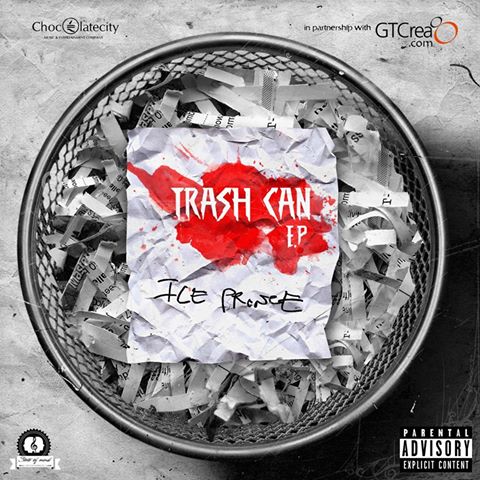 Is he a rapper?
Or perhaps a singer?
It's a little too difficult deciding which Ice Prince loves to do more. Yes, Ice takes his art very personally, which kind of explains why we can't exactly place a finger on what it is. I don't think it's ours to decide anyway. It's his to define, and for time now, he has. Although Ice doesn't have a typical baritone or tenor that would stop you right in your tracks but the vocal effort he expends should be lauded due to their audible nature and articulate presentation. Ice has continued to deal an unusual self-styled take on music and rap by singing and spitting on bars intermittently. Like you probably guessed right, it wasn't any different with his recently released EP titled "Trash Can".
City Monstar's production on Confess is squeaky clean and void of an auditory stain. As the EP's lead track, it works up an appetite for more to be expected. At time stamp 3:08, you can't dismiss the feeling of a Vector spoiler when Ice says "fuck you king kong". That left me wondering too.
Marry You is the most tuneful track that got Mr Zamani doing a great deal of singing. He just had to really get into it especially as Suka's locally built instrumentals with a text coat of contemporary sounds were quite the enchantment.
Sounding an awful lot like a sequel to N-Word, Nobody serves a self-aggrandizing and unapologetic message about a myriad of things that no one truly gives a f**k about. This careless rant is perhaps premised on some peoples' thoughts and notions on his rap persona just because he's chosen to not sound like a regular rapper. By nobody, he means he don' gih a f**k!
Mutumina samples a revamped Northern sound spun off graduated scales. There's a clear absence (or shall I call it loss) of words for almost a whole minute. Instrumentals playing and background adlibs calling out nothing other than 'kasa kasa' and 'yowa'. Then there's that "dis no be ewa and dodo" line that reminds us why not everybody loves Ice Prince. More of the lines were delivered in his local dialect and further exposed a defect in his indigenous rap ability. Mutumina, I think means friends and is supposed to be a tribute to them, so I'm guessing they're in a better position to appreciate it.
Elegushi paints a typical scenario of the popular chill spot in Lagos. Because it's contents are very relatable especially on the girls and booze context, almost everyone would come to love the jam. I'm not sure if there's anything to be said about Joules Da Kid feature 'cos boy, it was forgettable. Yes, that's what it was.
Mr Zamani plays smooth criminal with One Day, the EP closer that makes you forget… no, overlook all the blips you noted on other tracks in the course of listening. He seized the opportunity to holler at some of his goons while sending out a strong message of hope and belief amidst rich chords and a soulful orchestra.
Trash Can EP is a compilation of memorable compositions, a variety of melodies, harmonies and a musical arrangement that leaves you wondering why they should be thrown out. If anything, Ice Prince deserves an 'A' for appreciated effort.
Reviewed by Jim Donnett
@jimancipation
---