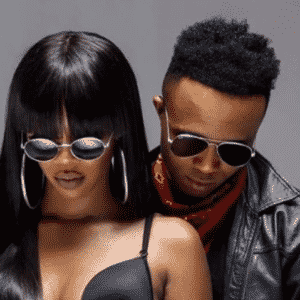 Singer, Humblesmith has come out to speak about his rumored romance with Tiwa Savage.
During the week, sensational pictures of Tiwa Savage and Humblesmith went viral on the internet. The pictures led to rumors about the two singers being romantically involved. However, Humblesmith has come out to say there is no truth in the rumor.
The Osinachi singer who spoke to Vanguard, saying the pictures were mere promotional shots taken on set of the video shoot for his latest single.
He said, "Those pictures which went viral online are mere pictures taken on the set of a recent video shoot for my new song, 'Attracta', featuring Tiwa Savage. "I'm not in any form of romantic relationship with her. I think this rumour came up because she has not taken such sensational or romantic picture with any other artiste apart from Wizkid; so I think that's why the pictures went viral. You know bloggers always look for sensational stories to drive traffic on their blogs; that's the reason they were suspicious and went ahead to write stories that I may be dating Tiwa Savage, but there's nothing of such."
---