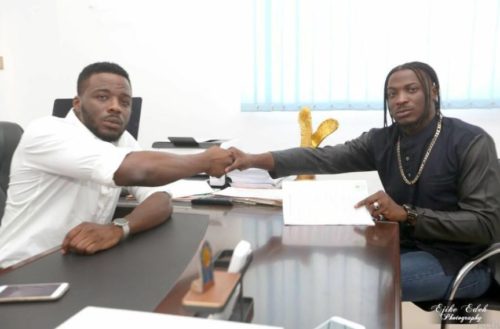 Golden Boy boss, Patrick has slammed Peruzzi again and this time it's for deleting tweets giving his own side of the story.
Peruzzi finally responded in the wee hours of the morning also slamming Patrick over his claims but deleted them immediately. However, fans had already taken screenshots of his tweets and called the attention of Patrick. The music boss took to his Twiter page to call out the "Majesty" singer again slamming him for deleting his tweets. Patrick promised to make him pay for his ingratitude, disloyalty, and ignorance.
He wrote, #SurvivingPeruzzi. @Peruzzi_VIBES.Why did you delete your tweets? Ur fans wanna know. ur 1st sentence is a lie! And so is the rest.I'm not hungry, but I will make you pay for your ingratitude, your disloyalty, and your ignorance. @Peruzzi_VIBES.Upcoming artists need to do better to attract investors. #BadEgg #SurvivingPeruzzi.
See the tweets below:
#SurvivingPeruzzi. @Peruzzi_VIBES Why did you delete your tweets? Ur fans wanna know. ur 1st sentence is a lie! And so is the rest https://t.co/eoaIBNlPPG

— King Patrick ? (@Kingpatrickgb) January 17, 2020
---