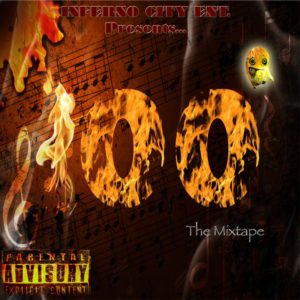 Inferno City is the brain child of Mr Bonez aka Debonez aka The real Jimmy Bonez. Initially the group was formed by Mr Bonez in 2003 after meeting up with Mr Android at luton, United Kingdom Mr Bonez had been into music for a bit before he met Mr Android, he then introduced Mr Android to the music making scene. at that time Mr Android was and still is a great fan of music but had never considered being a creator of it till he met Mr Bonez and got inspired for the first time to write a freestyle rap. Although having just started getting the hang of music production Mr Bonez and Mr Android set out to explore music creatively and through it's various forms came across alot of people from different places in the world through music oriented interactions. They finally decided it was time to get the music out there so they started putting together a little crew of rappers with Mr Bonez behind the Sound Production and Engineering.
The group however does not only consist of DeBonez & Mr Android, there are various artistes across the globe that are part of this movement such as KP aka Capone, Shadow, D-Man, K.Rimez (DeBonez's younger Brother), El Bee Tha Ghost, Bobby Ibo, Bash Boy, Dejasci, Oba Sam, Verbal Heat aka Boom Baptist & Flowsmith (who has worked with other upcoming naija acts such as Midnite, Teckzilla of Str8 Buttah etc). With that said, various releases in the past individually and as a collective such as the Staet of Supreme (DeBonez, KP aka Capone, Mr. Android, Shadow, D-Man and other ICE affiliates ) Mixtape released together they have been aiming for unquestionable but applaudable hype within the luton town and have appeared in a couple of events and were also given a spot in the luton carnival in may 2010, for the team this is an excellent way to get more exposure locally and also nationally. Other releases include the Life Vol. 1 Mixtape by Flowsmith that was released last year and The Formation by K.Rimez that he dropped in February 2011.
The collective as a whole, decided to put out a mixtape titled 100Degreez for the public & haters to enjoy lol, with features coming from close affiliates, thus most of the tracks on the tape were produced by Inferno City's in-house producers (DeBonez, Boom Baptist & Flowsmith). With that said please note that Inferno City is not a rap group or whatever you wanna call it, this is an entertainment outfit coz they pretty much do everything.
[audio:http://tooxclusive.com/wp-content/uploads/2011/10/Down-x-2-Up-Noob-feat.-Bobby-Ibo.mp3|titles=Down x 2 & Up (Noob) feat. Bobby Ibo]
[audio:http://tooxclusive.com/wp-content/uploads/2011/10/13-Up-Now-K.Rimez-feat.-Bankx-Ty.mp3|titles=13 Up Now – K.Rimez feat. Bankx & Ty]