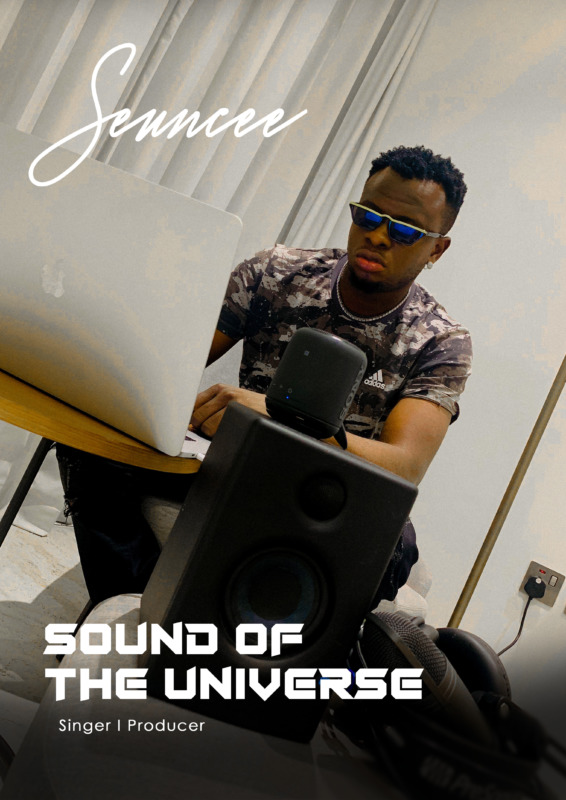 SEUNCEE – SOUNDOFTHEUNIVERSE
SINGER | PRODUCER
Most prodigiously talented people show glimpses of their talent early. For Sound of The Universe, it was no different.
Ask any artist when they discovered their love of music or creating it, and words like "really early" and "from my childhood" come springing forth like lyrics from a well known song. For Oluwaseun 'Seuncee' Olorunmojo, aka Sound of The Universe, he might as well have come into the world singing, producing and writing songs. Not many would be surprised if that was the case.
Born in Ondo state, southwestern Nigeria, this true to his roots African son, is a proudly self-taught music producer, singer and song writer. Like any other artist, his culture, informs his music, but these influences are widened, developed and influenced in generous measure by artists he grew up listening to.
Born in the 90's, an era almost overdosing on R&B, Rap and Pop goodness, with detours into New Jack Swing, and flavored with monster songwriting and production skills of the likes of LA Reid and Babyface, R Kelly and Teddy Riley. Little wonder, one of the golden eras of black music, provided a real spark to a flame, and helped develop a true songwriter and producer's ear in the young talent.
He grew up listening to the music of Kelly, Michael Jackson, the classic foundational rap of 2pac, and then turning it all on its head by enjoy the mastery of tunesmiths like Lionel Richie. A soul artist who wrote and sang pop music, and who in turn appealed to a far reaching demographic.
It makes for a heady mix of infusions.
By the time Seun joined his local church's children choir, an early outlet and avenue to express himself musically before an audience, fate kicked in and the roots were laid for his unique abilities to find further expression and development.
Realising all he wanted to do was live, work and breathe music, his professional career started as a singer/song writer.
College however beckoned, and he moved to the Nigerian University town of Ilorin in pursuit of a degree. He however found more than that, with exposure to the world of music production. Once he started on that road, exploring it to its fullest extent became a forgone conclusion.
Before long, as Seuncee, he could lay claim to serous work, making inroads in professional music production, by sequencing sounds and beats for other artists.
Eager to learn and grow, he self taught, his Mum buying him his first ever laptop to support her sons passion and talent.
Seuncee became the master of music technology and software. Consuming information and finding learning opportunities wherever he could. The Internet became invaluable, and YouTube tutorials on how to master beat production, and be a better vocalist, becoming oxygen to his every waking moment.
He also wanted to understand sound in a very different way. Cue piano classes and learning how to play as an instrumentalist, further pushing the envelope on his scope of abilities.
Eventually Seuncee decided to move to Lagos, Nigeria's heady cultural heartland and Africa's defacto entertainment capital, supporting as it does Nollywood, one of the world's largest film industries and of course the epicentre of Afropop.
Nigerian music had long before taken over the continental airwaves, and Seuncee was ready to cut his piece of the pie offered by his spiritual home, and in so doing, move his music to the next level.
That move proved to be a great one. Offers arrived from top recording studios across the city, and he had the chance to work with the industry's best sound engineers, producers and artistes. Further enforcing his foundational belief in the importance of creating an individual sound identity.
Seuncee has always been open-minded, embracing the challenge of learning something new everyday. A sense of exploration which has lead him to exporting his sound to the Middle East. Project Dubai 2020 becoming part of his quest to personally broaden himself, as well as challenge his craft.
As a person who loves what he does, he is focused on delivering quality sounds to the world. Ask him and he'll tell you without hesitation, right now, he is right where he ought to be.
KINDLY REACH OUT TO HIM ON HIS SOCIAL MEDIA PAGES
INSTAGRAM @SOUNDOFTHEUNIVERSE_
TWITTER @Seuncee
FACEBOOK PAGE: SEUNCREATIVE
TRILLER: SOUNDOFTHEUNIVERSE_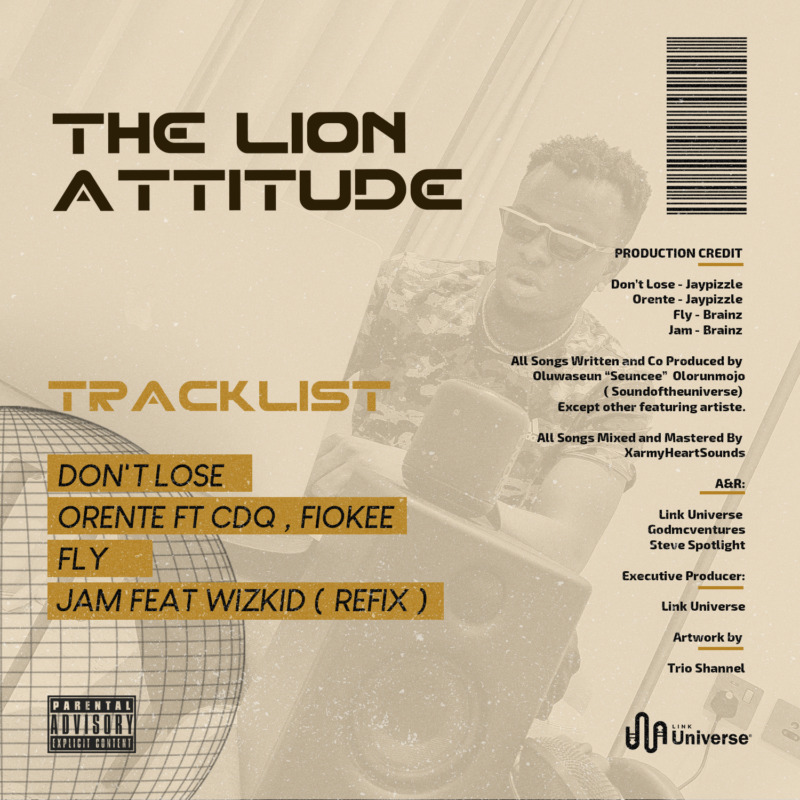 "THE LION ATTITUDE EP" (out by summer)
PROJECT BY SEUNCEE – SOUNDOFTHEUNIVERSE
The opening track on SoundOfTheUniverse's incoming EP, "The Lion Attitude", 'Don't Lose', is a stripped down rhythm driven number, infected with a straight to the core groove. This lion isn't bearing his teeth just yet, but no mistaking the raw strength of attitude here.
Track two and our young lion brings on two warriors to roam free and cut their teeth on 'Orente'. Rapper CDQ and guitarist Fiokee join SoundOfTheUniverse to grab a hold of the energy. Feet begin to stump, and bodies begin to move. Echoes of Africa abound from the singing in the Nigerian language of Yoruba, to the chanting which mirrors the DNA of much of Southern African music. Orente is dance music which dares to be interesting, and still stay itself all at once.
Early single 'Fly', the opening salvo for #SOTU for 2020 remains a bop, making its welcome return here. Think big beats, limitless highs, fresh air we can actually breathe, and the capacity to lighten virtually any mood. The prescription on the lable here should read, "still good after the 100th listen!"
The EP closes with a 'Refix of Wizkid's Jam'.
It takes a bold artist to interpret a bold artist. To do so well, now that might take a brilliant one. For brass balls alone, this gets a ten, showing a Lion's Attitude… and so it comes to an end, but time to press repeat on this thing and start over. SoundOfTheUniverse just laid a marker. Safe to say, the landscape may never be the same again…