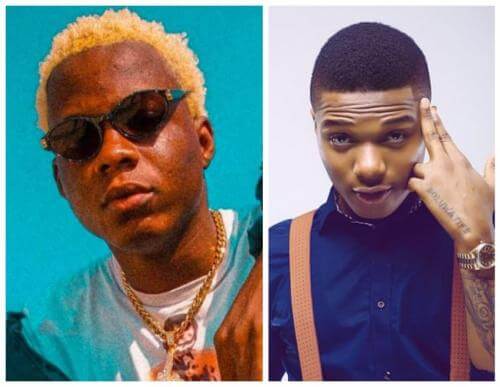 Wizkid's protege, Starboy Terri just debuted a new single, "On Me" for the year 2019 which is a banging jam.
The song which is produced by Quebeat is about a girl Terri is heard making promises to in order to have him get a love and romantic chance in her life. He expresses that the girl gives in to his advances because he's been waiting on her for a long time.  But with lyrics like "baby give me body cos e be like say e don dey long" I am in the dark about Terri's true intentions.
Does he want a relationship or just wants to have a taste of the girl's sexy figure on his bed, couch…whatever? The song has a groovy beat and a very sweet tune, the lyrics are decently laced and his vocals very well sounded.
However, I have a little problem with the fact that Terri's talent he's been wasted by Wizkid. Terri is signed under Starboy, and from the freestyles and songs he's released before and since he signed to the label, it is very easy to judge that he is a great talent.
But great talents don't become successful if they find themselves in an environment that does not consist of people who are grievously dedicated to the course of their successes. Unlike other major label artists, Starboy Terri has not been pushed enough by Wizkid and his label. For a young talented star who is over a year old in such a massive record label, it is just too bad to know that he had 2 songs prior to the release of "On Me"  which never did well.
Wizkid doesn't put Terri in our faces as other labels do for their artists, rather he is all about himself and how successful he becomes in world music. And the sad thing is, it is even ridiculous to know that there are some music fans who have heard of Terri but do not know the face behind the name. Too sad!
One thing that the label should take note is, they should never allow Terri to drop a song at a time that a Wizkid song would likely drop. Wizkid's will definitely overshadow Terri's. Take for instance when Terri dropped the video to his debut single "Bia" last year, Wizkid revealed he would let the video amass 2 million views on YouTube before he dropped his own "Fever" video. And just barely 2 weeks from that, the video to "Fever" dropped and "Bia" became a forgotten issue.
This year yet again, Wizkid took a break from music for more than 3 months and in the course of the break, Terri never dropped any song. He however finally announced that he will be dropping one on the 19th of April and just after the announcement, Wizkid took to his Instagram page to unveil that his song with Larry Gaaga will be dropping the same day as well as Terri's. What a move!
If this inefficiency in the works of the record label continues to happen with Wizkid, Starboy and Terri, i just feel the young man might not be able to fulfil his potential in the Nigerian music industry.
So with all that is written above, i will just leave a question for you so you could share your thoughts, do you think Wizkid is "killing" Starboy Terri's career?
Written by Taiwo Oluwafemi
Twitter: neefemie
Instagram: neefe_nawti
---