Nigerian singer Nissi Nation has sparked reactions on social media after she spoke a bit about her music career and being Burna Boy's sister.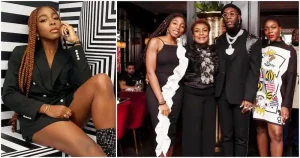 During a recent interview with Chude Jideonwo, the 28-year-old music star was asked about her decision to be signed on to Burna Boy's record label, Spaceship Records.
According to her, there is no perfect record label in the world, and she had to weigh the pros and cons before making a decision.
Nissi explained that being part of a label where she is fully supported and her vision is understood is priceless because she can trust the people around her.
She said:
"You have to always weigh the pros and cons and select what you think is best for you. There's no label in this world that is perfect but having people who believe in you, are ready to fully support you, understand your vision, know where you're going and draw up the plan that you can align with is a little bit priceless because you can rest easy, you trust the people around you and at the same time you're building a legacy."
Nissi speaks on being compared to Burna Boy
During the interview, Chude noted that Nissi looked like someone who would get upset if her successes were credited to her family or someone who would be irritated if she was constantly compared to her Grammy-winning older brother, Burna Boy.
View this post on Instagram
In response to that, Nissi admitted that she used to feel that way, but she decided within herself to try something different.
The young lady said she noticed that she was running away from her blood despite her family being the people who love her most in the world.
She said:
"At some point in time it was, then I thought to myself 'why not try something different? You're running away from your blood, these are the people you love the most in the world and no one else will have your back as much as your family so how do we make it work in a way that can help us all shine in the way that we deserve but also help us build something together?"
On a final note, Nissi added that she was not competing with her family. She said:
"It's never been a competition, It never will be."