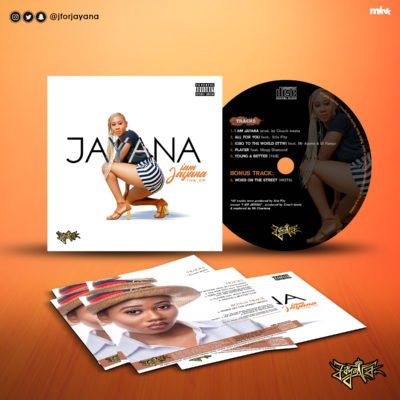 Jayana, The East Coast Queen has decided to share her feelings/story of every emotion she has felt in the past year on a 6 track EP. She introduced herself in Track 1 "I am Jayana". Track two featuring Xris Fity was about love and commitment. Track 3 featuring Apete and El Fuego was all about representing the Igbo Tribe. In Track 4, "Player" Well, Jayana got played so she featured the sensational Magg Diamonds to add life to the song. Track 5 "Young And Better" was simply about Hopefulness and recovery while Track 6 "Word On The Street" was all about coming from the street. Like She said, the name "JAYANA" is here to stay. So, get your ear piece and get familiar. All songs expect Track one was produced by the amazing and talented Xris Fity, mixed and mastered by Mr Charisma.
Track List:
1: IamJayana Intro || DOWNLOAD
2: All for You Ft Xris Fity || DOWNLOAD
3: Igbo To The World (ITTW) Ft Apete And El Fuego || DOWNLOAD
4: Player ft Magg Diamonds || DOWNLOAD
5: Young And Better (Y&B) || DOWNLOAD
6: Word On The Street || DOWNLOAD

"Jayana – "I Am Jayana" EP", 5 out of 5 based on 1 ratings.
---