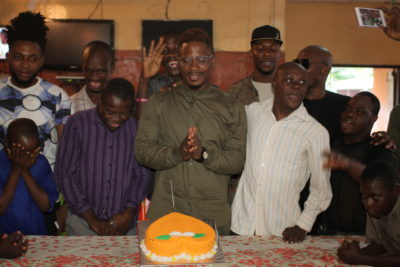 Musician and songwriter, Jaywon visited the students of Modupe Cole Memorial Child Care recently in celebration of his birthday.
As part of his yearly activity, the star, full name Oluwajuwonlo Iledare, threw the students of Modupe Cole a party.
On why he chose the home, Jaywon disclosed that he was further inspired by the chat of one of the students of the home who once told him "rather than throw a lavish party, why not come yearly in your own little way to celebrate with us" and ever since it has become a yearly tradition he goes there.
According to him, "although I was out of the country during my birthday but I made it a must that when I return, I will definitely show up here."
https://www.youtube.com/watch?v=DLK0CrO9SqQ
The next world music act was joined by Joe El of Kennis Music, and the new signee to his label, Twistdafireman alongside friends. See pictures from the celebration below.